WWE Legend Mick Foley Gives His Verdict on Britt Baker and Thunder Rosa's Historic Battle
Published 03/19/2021, 9:30 AM EDT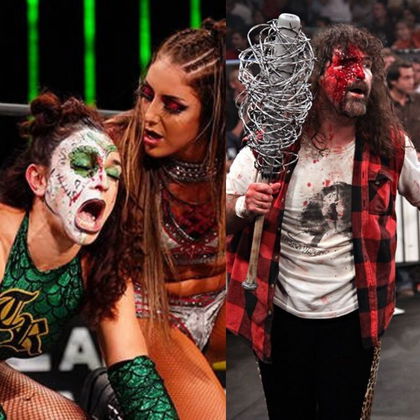 ---
---
We're over 24 hours out from the historic Lights Out Unsanctioned match between Dr. Britt Baker and Thunder Rosa. Both women put on a match that stole the show and left fans wanting for more.
ADVERTISEMENT
Article continues below this ad
Honestly, no one thought these two terrific athletes would surpass expectations, but they did big time! After all, when Hardcore Legend Mick Foley approves, it has to be an excellent contest.
Mick Foley gives his verdict on the Britt Baker-Thunder Rosa match on AEW Dynamite
ADVERTISEMENT
Article continues below this ad
WWE Hall of Famer Mick Foley is no stranger to blood, ladders, and thumbtacks. In fact, Foley is no stranger to any extreme/hardcore weapon or structure either. The Hardcore Legend saw an AEW tweet of Britt Baker and Thunder Rosa's match visuals and immediately asked fans where he could watch it.
Finding out where to watch wasn't an enormous task as Foley gave his verdict within an hour. He tweeted a video where he showed himself watching the Lights out unsanctioned match and then gave the women a huge thumbs up. Now, this little thumbs up may not sound like a big deal for many, but it is indeed.
Mick Foley is a true legend of the professional wrestling business. He has given it his all (quite literally) – blood, sweat, tears, teeth, and even an ear for the pro wrestling sport/business. And when someone as great as him gives a thumbs up, it is a huge compliment.
This is the first time in pro wrestling history that a non-WWE women's match has stolen the show. If you haven't watched the match yet, then please do because you can only see it to believe it.
Is Britt Baker the next Becky Lynch?
Becky Lynch rose to fame following her heel turn at SummerSlam 2018, but she became 'The Man' after she bled profusely from the nose following a botched punch from Nia Jax. That sight spread like wildfire, and 'The Man' was born. Becky bleeding yet fighting truly showed how badass she is.
ADVERTISEMENT
Article continues below this ad
Britt Baker's scenario is also quite similar, but the major difference is that she and Thunder Rosa earned praise because of their match and not just blood. Britt Baker is definitely not the next Becky Lynch because she has all the tools to be a megastar on her own.
What do you think of the Lights out unsanctioned match? Let us know in the comments below!
ADVERTISEMENT
Article continues below this ad