Floyd Mayweather vs Logan Paul Was Fixed- AEW Superstar Jade Cargill Makes a Bold Claim
Published 06/07/2021, 2:07 AM EDT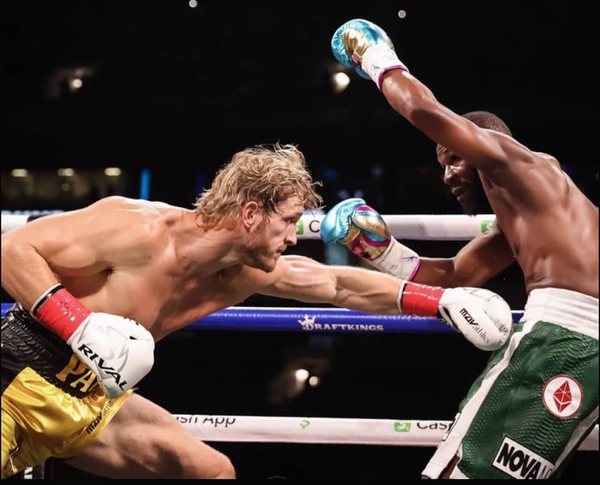 ---
---
Hardly half the affair fans expected it to be, Logan Paul vs Floyd Mayweather went the distance for a complete 8 rounds as decided in the contract, and the bout ended with no clear winner. Contrary to popular belief, Logan did not get knocked out and stood his ground against Mayweather, a seasoned and undefeated professional boxer. 
ADVERTISEMENT
Article continues below this ad
The fight fell short of a lot of marks and Mayweather failed to rightfully put Logan Paul in his place as he wanted to. As decided earlier, the fight had no official judges and no winner for that matter, so the winner would understandably be decided on who got knocked out.
The bout did not feature any of that, and fans took to Twitter to express their dissatisfaction on the affair. In the midst of it, AEW Superstar Jade Cargill spoke for a lot of them by accusing the fight of being fixed. 
ADVERTISEMENT
Article continues below this ad
This fight is a work 🙄

— Jade Cargill (@Jade_Cargill) June 7, 2021
By the looks of it, Mayweather was holding back. However, he did clip the YouTuber pretty hard on several occasions in the fight.
Logan's main advantage was his reach compared to the shorter Mayweather. He could not manage to use it to his advantage decisively but nonetheless kept clear of the veteran's concentrated attack. 
Who won Logan Paul vs Floyd Mayweather?
As expected, several memes on the fight have already surfaced on social media. The two rivals hugged after the fight, although both came out as winners in terms of the payday. 
In the post-fight conference, Floyd Mayweather claimed fans would find out who won after the money comes in. However, Logan Paul certainly made it big by lasting the 8 rounds aj sort of 'going the distance' in a very one-sided affair. 
Both sides claim victory in this bout, but no official decision can ever be made. Other wrestlers also took to Twitter to troll the match for its lack of action. Sasha Banks openly called out Mayweather, joking that it was easy money. 
Hurricane Helms and T-Bar also openly criticized the match, hinting that it was not a real fight. For something that was built up for months, it was quite the anti-climactic affair that left a lot of fans unsatisfied.
ADVERTISEMENT
Article continues below this ad
BTW, the boxer who hasn't knocked out another boxer in over a decade also didn't knock out Logan Paul tonight. This is my Ted Talk.

— Hurricane Helms (@ShaneHelmsCom) June 7, 2021
ADVERTISEMENT
Article continues below this ad
Needless to say, we are excited to see what's next for the two. They certainly brought in a heavy purse, and we can expect this YouTuber era of boxing to continue.