Fans React in Awe to Sting's Ageless Performance at AEW Double or Nothing
Published 05/31/2021, 1:23 AM EDT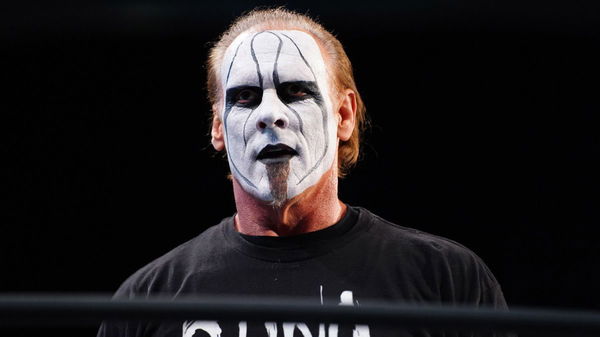 ---
---
He may be 62 years old, but Sting showed us age is just a number as he headed out to deliver an insane performance at AEW Double or Nothing. The WCW legend shocked the crowd with his surprising athleticism and showed no signs of ring rust at all.
ADVERTISEMENT
Article continues below this ad
Sting teamed up with Darby Allin to take on Skorpio Sky and Ethan Page at the event. This was his first in-ring match in front of a live audience since his last one in WWE, 6 years ago. Fans expected this to be the last time 'The Icon' performed, but we may all be in for a surprise.
The fact Sting is able to move like this despite being over 60 y.o. truly is amazing. The man has no ring rust at all

— Minerva Raye Omega (@MinervaRaye) May 31, 2021
ADVERTISEMENT
Article continues below this ad
The former WCW World Heavyweight Champion raised a lot of eyebrows with his huge performance in the ring. Due to his age, fans assumed Sting would not indulge in high-flying moves or take any intense bumps. However, he did all of that and more. 
How the fuck can Sting still go? I need to make sure I can move like that when I'm 62, jfc

— Kaelis (@KaelisMirage) May 31, 2021
Twitter blew up as 'The Franchise' did one thing after the other and got back up, ready for more. After being away from in-ring action for such a long time, a wrestler would have some sort of ring-rust, but Sting looked as good as new. 
Fans did not expect so much from Sting
In an interview prior to Double or Nothing, he admitted that he felt the effects of a Brian Cage powerbomb from months ago which led fans to believe he will be on shattered glass at the event itself.
Instead, he moved from one side of the ring to the other swiftly, delivering Stinger Splashes and landing whatever high-flying move came his way. 
The fact that @Sting did multiple maneuvers that were far beyond expectations hit me two ways – 1. It's showtime 2. WWE sets a cap on their talent like @NAPARacing does on their cars #youstillgotit

— Chris (@ChrisBPSmith) May 31, 2021
At the end of the match, he pointed towards Darby Allin, making sure the younger star got most of the spotlight. Undoubtedly, he has made the former AEW TNT Champion a lot more popular as a character by mentoring him. 
Also, can we talk about how great Sting looks for his age and how great he still is!? That match was awesome! #AEWDoN

— Ofi! (@Ofizilla) May 31, 2021
The question now is, have we seen the last of Sting in live matches? 'The Icon' debuted in 1985 and has wrestled for a total of 36 years in the industry, surpassing every single name in the history of the business in terms of tenure.
ADVERTISEMENT
Article continues below this ad
By the looks of it, he has filled the tank one last time for what is surely his final stint in a long career. Sting may just have that one good match in him yet, and AEW will surely book it as a fitting end to a legendary career. 
I honestly believe sting is in better condition then I am lol

— Maki-chu (@MichaelMikachu) May 31, 2021
ADVERTISEMENT
Article continues below this ad
Sting still got it

— Amy Fuchsia Lowe (@AmyFuchsiaLowe) May 31, 2021