AEW Superstar Dr. Britt Baker Takes a Cheeky Dig at NXT's Adam Cole
Published 03/26/2021, 10:43 AM EDT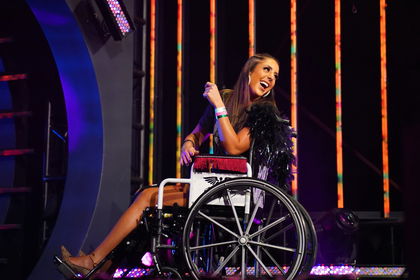 ---
---
Tempers were flying high on the latest episode of NXT, as Adam Cole met his former teammate and current nemesis Kyle O'Reilly face-to-face. We will see these two meet at TakeOver: Stand and Deliver, but it seems as if Cole has overstepped his line. 
ADVERTISEMENT
Article continues below this ad
During his altercation with O'Reilly, the former NXT Champion punched General Manager William Regal in the face as he attempted to restrain him. This action was met with gasps since no Superstar has ever done this before, and all eyes were on a furious Cole. 
It seems as if he has no remorse following his actions. In a recent post on Twitter, Adam Cole explained his actions and demonstrated no sign of regret for what he did. 
ADVERTISEMENT
Article continues below this ad
William Regal declared that the match between the two would be an unsanctioned match, which is what Cole attributes to his actions. However, reacting to this was his girlfriend, AEW Superstar Dr. Britt Baker DMD.
Britt Baker fought in an unsanctioned match on last week's episode of AEW Dynamite against Thunder Rosa and managed to make it the best fight in the promotion's history. The two took each other past the limit and were bloody messes by the time it ended.
The match instantly received praise from the wrestling world including hardcore legends like Mick Foley. It surpassed many recent WWE matches in terms of brutality and really pushed the AEW Women's Division to a higher pedestal.
Britt Baker went through hell in the match against Thunder Rosa
Baker got power bombed on Thumbtacks and even went through a table during the match. In fact, these were just the surface level of hostilities. The match became an instant hit and instantly raised the bar for the AEW Women's division. 
ADVERTISEMENT
Article continues below this ad
WWE cannot make fights the way it used to in the Attitude Era purely because of its PG reservations. The company cannot involve hardcore spots or plan matches like these. If a wrestler bleeds during the fight, the screening goes into a black and white format. 
AEW has a lot more freedom in that respect and can experiment how much ever it wants. The promotion takes full advantage of this and plans the most unique stipulations.
ADVERTISEMENT
Article continues below this ad
It does not refrain from sending Superstars into brutal fights which makes up for a very entertaining aspect of the wrestling experience.