CM Punk Disowns His WWE Career Upon AEW Debut on Rampage
Published 08/20/2021, 11:29 PM EDT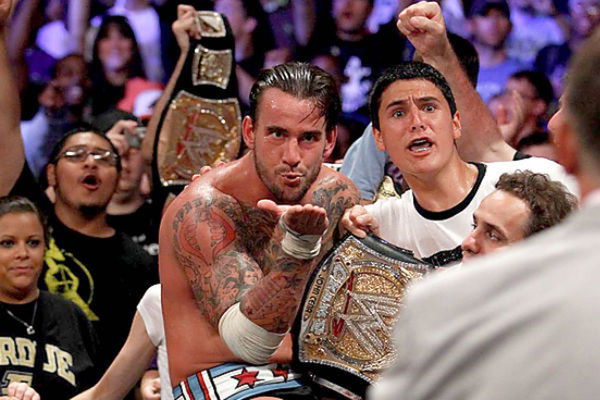 ---
---
The unthinkable happened today at AEW Rampage (8/20). Tony Khan managed to bring back CM Punk into the squared circle after 7 years. As expected The "Best in the World" has a lot of things to say.
ADVERTISEMENT
Article continues below this ad
He came out to a massive pop, that saw many fans crying and cheering his name. Punk opened up his promo by revealing it was all unscripted and he would say whatever he felt like.
He apologized to the crowd for something he did years ago. Punk wanted the fans to know he wasn't going to get healthy mentally or physically if he stayed in the place that got him sick in the first place. He was obviously referring to his departure from WWE in 2014.
ADVERTISEMENT
Article continues below this ad
As he sat down to talk to the crowd, everyone knew he was not going to disappoint. Punk started off with "a story." It was a story about how he had to leave a place. The place was Ring of Honor (much to the crowd's amusement).
When Punk left ROH for WWE, he cried. Because he knew he was going to a place where a guy like him is not appreciated. Years later, Punk realized, the day he left ROH for WWE, was the day he left pro wrestling.
But now after seven long years, innumerable speculations and rumors later, Punk was finally back in the ring. He was back to stay because if August 13, 2005, was the year he left pro wrestling, August 20, 2021, is the day he came back to it.
Watch this story: Former WWE Superstars Who Are Thriving in AEW
CM Punk is back for Darby Allin and all the young talent in AEW
Over the past few years, CM Punk has proclaimed that WWE is ruining talents. When he left WWE, he did so because he had no other option like AEW. But now he does,
"I'm back because there is a hell of a lot young talent that I wish I was surrounded by 10 years ago," he said. Punk is back to face the young AEW talent who has the passion he did as a younger wrestler.
ADVERTISEMENT
Article continues below this ad
He ends up answering Darby Allin's call from a few weeks back. Punk revealed Allin would face "the best in the world" at All Out 2021. Allin and Sting smiled while overlooking the rafters.
He ended the segment by revealing his long-lost dream of CM Punk ice cream bars were now a reality and everyone in the audience will get a free one.
ADVERTISEMENT
Article continues below this ad
What is your reaction to the return of CM Punk? Sound off in the comments below.