"I Am A Businessman" – AEW Superstar MJF Teases A Move to WWE
Published 05/09/2021, 8:15 AM EDT

Follow Us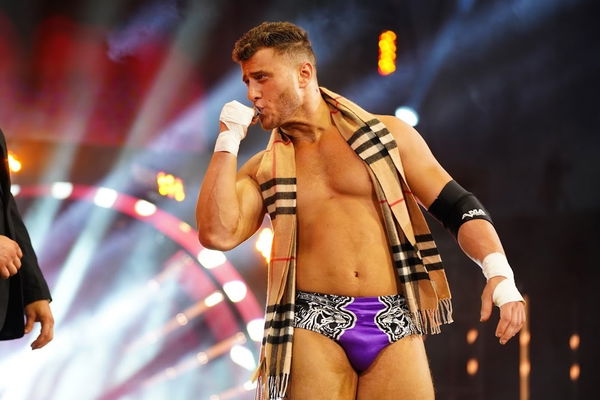 After a coveted win at AEW Blood and Guts, Pinnacle leader MJF has teased something new. Not only does his AEW contract expire in 2024, but the wrestler also teased a possible move to WWE.
When asked where does he see himself after the end of his contract, MJF said he would be the AEW World Champion and the leader of The Pinnacle but won't discard the temptations of "the highest bidder."
"Me and my boys were willing to go wherever the money's at, it's that simple," MJF told Steel Chair magazine. "Don't get me wrong, AEW runs deep in me, I don't want to leave, but I am a businessman at the end of the day, and I can't help myself if somebody's got an offer for me, I'm going to listen to it."
ADVERTISEMENT
Article continues below this ad
Deeming himself as a "silver-tongued devil", MJF revealed he tends to be in groups as "it's the smart thing to do." He is pleased with Pinnacle, as every one of them has the same winning mentality as MJF.
MJF weighs in on the hate he receives for his young age
"The Salt of the Earth" knows that his monster push in AEW has attracted criticism amongst certain circles. But the 25-year-old never paid heed to the comments.
ADVERTISEMENT
Article continues below this ad
MJF is used to early fame. "I've been a top name in this industry since I was 22. I've been in this business since 2014, that's not a long time but, however, since I started in this industry, I have been non-stop traveling the world, and I've been a top guy in every single promotion I've ever stuck a foot in."
His experience was the reason for his confidence. Even when AEW offered him a contract, MJF knew what his goals were. He knew he had to be on the top, "whether it had been a Cody Rhodes or a Chris Jericho, I was gonna take it because nobody's more talented than me, nobody's better than me on the microphone and in the ring."
ADVERTISEMENT
Article continues below this ad
He is happy that fans are accepting his greatness after a year and a half. Needless to say, MJF will use his experience and lessons for the betterment of his faction.