"I Have No Interest in It" – AEW Commentator Tony Schiavone Slams Dwayne Johnson's Autobiography Young Rock
Published 02/18/2021, 6:45 AM EST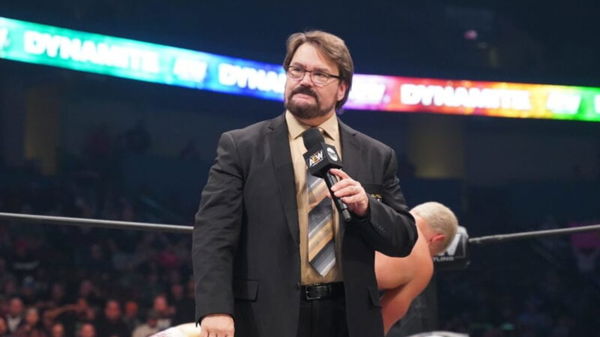 ---
---
Dwayne "The Rock" Johnson's recent venture is 'Young Rock,' an autobiographical show, focusing on his upbringing in the Anoa'i Family. Although the show is getting rave reviews, AEW commentator Tony Schiavone is far from impressed.
ADVERTISEMENT
Article continues below this ad
In the post-show session of AEW Dynamite this week, one fan asked Schiavone if he saw the Young Rock premiere on NBC. To this, Schiavone coldly said he would not watch it as he is least interested.
"No, I haven't because I'm going to be honest with you, I have no interest in it. And it's (the decision) nothing to say anything about The Rock. But I have no interest."
ADVERTISEMENT
Article continues below this ad
Instead of Rock's show, Schiavone is watching the second season of Future Man on Hulu, old episodes of Monk on Prime Video, and WandaVision. However, he does not intend to watch Rocky Maivia becoming The Rock.
Schiavone might not want to see the series as he has known Rock for his whole life and already knows the story. Nonetheless, Schiavone slammed WWE a bit more. He revealed he was in Connecticut for a while with the WWE production team, and they made his life miserable.
"I lived in CT for one year. I was working for the WWE. They just make people miserable, that's their job. The people behind the scenes make 'em miserable."
However, Schiavone had something else to say about his WWE stint in Connecticut recently.
Tony Schiavone regretted leaving WWE
Before Schiavone became the voice of WCW, he had a brief stint with WWE (then WWF) for one year. He recently revealed to Lucha Libre Online the reality of his stint.
"I had a great year with them. Before I started working with AEW, I would consider the WWF my best year in pro wrestling," said Schiavone. "I loved working there, and I got along with Vince McMahon."
"I got to know Vince and Linda McMahon very well. They treated me really well," he added. Schiavone joined WWE after he decided not to work with Turner productions. Hence he relocated to Connecticut.
ADVERTISEMENT
Article continues below this ad
But tragedy followed as he had to leave due to family and financial issues, "After about a year there… we just didn't like living up there. We didn't think it was a good place to raise a family. It was the cost of living. It was very expensive. So my decision to leave the WWF was based purely on what was best for my family. Not what was best for my career professionally. It was a move that I regretted for many, many years." (h/t Wrestling INC)
During his time in WWE, Schiavone was the main announcer for SummerSlam 1989 and Royal Rumble 1990. He shared these duties alongside Jesse "The Body" Ventura. Following his departure from WWE, he went to WCW until Vince McMahon purchased the company.
ADVERTISEMENT
Article continues below this ad