NBA Legend – Shaquille O'Neal Teases AEW Return for a Dream Match With Paul Wight Aka Big Show
Published 07/02/2021, 10:53 PM EDT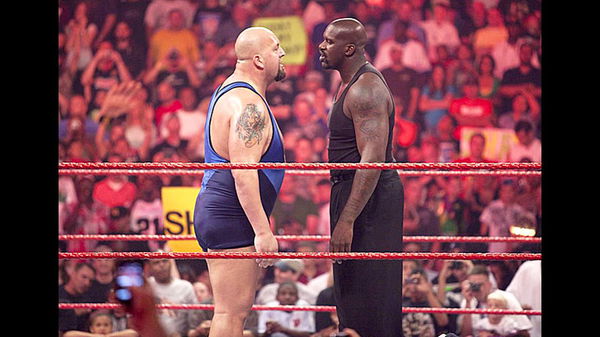 ---
---
There have been multiple instances in history when professionals from different sports have stepped into the squared circle of pro-wrestling. One such athlete is NBA legend, Shaquille O'Neal, who has made multiple appearances in WWE and AEW.
ADVERTISEMENT
Article continues below this ad
And who could be a better opponent for O'Neal than the 'Biggest Guy' in all of sports entertainment; The Big Show himself.
The rivalry between both athletes has been brewing for almost a decade now. The first time Wight [formerly knows as 'The Big Show'] and O'Neal were in the same ring was back in 2009, when The Lakers' legend was hosting an episode of RAW and had a physical run-in with the Giant.
ADVERTISEMENT
Article continues below this ad
Shaquille O'Neal says he's ready for Paul Wight
In a recent interview with PopCulture, O'Neal said that if Paul is done trash-talking, they can get down to business and deliver the match which the fans have been waiting on for ages.
"I hear Paul Wight's still talking trash, so I'm going to work out really hard this summer, and maybe we could do something very, very soon," Shaquille O'Neal said.
"Last time it was due out of bureaucracy and red tape, now there is no red tape. So, I'm going to go on because I'm still kind of sore from the table, so I'm going to go for it this summer, pump these muscles up here. I'll be waiting for you, Mr. Paul," said O'Neal.
Wight didn't back down as well. The former WWE Superstar took to Twitter and answered Shaq's comments on him, saying- "I'm not hard to find.".
Watch this story: From Muhammad Ali to Mike Tyson: Six Times Pro Athletes Stepped Foot In A WWE Ring
The last time these two giants met in a ring was back at WrestleMania 32 in an 'André the Giant Memorial Battle Royal.' Shaq and Big Show looked into each other's eyes before locking their horns.
ADVERTISEMENT
Article continues below this ad
Now, with Wight working in AEW as a color commentator, and Shaq being involved with TNT, it is just a matter of time before these giants collide in AEW's ring.
Notably, Wight is in the best shape of his life after shedding some weight and believes that he still has some unfinished business left inside the ring.
ADVERTISEMENT
Article continues below this ad
The in-ring tension between Shaquille O'Neal and the Big Show has been around for a long time, and fans can't wait much longer to see these bulls collide!