AFC Bournemouth 0-0 Tottenham Hotspur: Talking Points
Published 10/22/2016, 12:44 PM EDT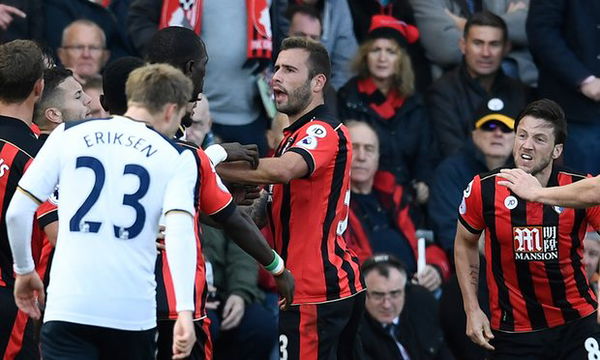 ---
---
Dangerous red card escapades and a goalless draw with a lot of controversy is what this weekend really needed and that is exactly what AFC Bournemouth vs. Tottenham Hotspur brought to the dinner table tonight. Tottenham were left frustrated after failing to reach the top of the table but were matched by their hosts bravely in a game full of dicey chances and scandalous moments as both Erik Lamela and Moussa Sissoko escaped their respective red cards.
ADVERTISEMENT
Article continues below this ad
Cherries take full advantage of slow start from spurs
In the build up to the game, many expected Bournemouth to play like a confident side and it all kicked off as expected. Spurs struggled to move the ball quickly as the Cherries pressed relentlessly. Spurs eventually grew into the game but Bournemouth broke off far too often forcing many last ditch tackles which yielded many yellow cards. Only if Junior Stanislas was on the pitch, the Cherries would've scored a goal or two in the first half itself.
ADVERTISEMENT
Article continues below this ad
Erik Lamela and Moussa Sissoko were lucky not to pick up their punishment
As Spurs miss the chance to go to the top even if it would have been for a few hours, they did not have a boring match at all, with the game being quite eventful for reasons Erik Lamela and Moussa Sissoko know all too well. Erik Lamela was extremely lucky to have not picked a second yellow which would turn into a red card as he charged rather violently towards Dan Gosling and as for Sissoko, his elbow struck Harry Artur, which enraged the player and those around him and created a situation that was difficult for the referee to handle as he somewhat had an obstructed view of the 'elbow' incident. In either case, many surely feel that a firmer action should have been taken.
Tottenham had a slow match and Bournemouth were successful in rattling their cages
Even after the slow start from Tottenham, many Spurs' fans expected them to take the pace up a notch after a couple of minutes and, although it did begin to happen as Erik Lamela's 17 minute 'almost' goal would have given the lilywhites an advantage of a goal, but alas that did not happen as the ball clipped the bar following a sharp build up by Delle Ali and with this the visitors were in the game. However, this did not stop Bournemouth from giving them a hard time which could be seen clearly by the tackled made by Ali and Rose on several of the Cherries' players.
Man of the match for Tottenham- Mousa Dembele
As Tottenham began their second half brightly and were seen dominating the game in terms of possession and territory, Bournemouth were becoming increasingly isolated and the game was completely turned around by the efforts of one Mousa Dembele who became the chief architect of the beautiful football Tottenham played thereafter. Dembele pressured his opponents into giving up possession and his work rate was on fire but all of this to no avail as the score line remained 0-0.
Save of the match: Lloris' save against Charlie Daniels
Just how underrated are goalkeepers? Very. However, Tottenham would have gone home with no points at all instead of a sorry one point they salvaged from this game had it not been for their goalkeeper Hugo Lloris, who was a great help today when it came down to saving the goals that could have been disruptive towards Spurs' game. Lloris, somehow directed a close-range effort from Bournemouth's Charlie Daniels on to the crossbar in the early stages of a game that finished goalless and left the fans stunned both in the stadium and the ones watching from home. One Twitter user summed it up pretty well: "Is there anything Hugo Lloris doesn't save?"
https://www.youtube.com/watch?v=1XKHU-sdl7Q
ADVERTISEMENT
Article continues below this ad
ADVERTISEMENT
Article continues below this ad