Ahmed Shehzad makes a comeback
Published 06/01/2015, 4:18 PM EDT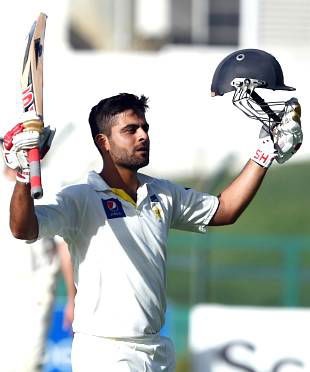 AHMED SHEHZAD, the young face of Pakistan cricket, is set to be called upon for the team's upcoming tour against Sri Lanka this month. With the tough challenge up against the team, the selectors want to have a side that possesses the apt experience and talent for the exotic tour. After the ICC World Cup, Shehzad, along with Umar Akmal, was commanded to go and learn some cricket discipline and attitude in general by playing in the Domestic leagues and tournaments.
Shehzad, who made his debut for Pakistan in 2009, has appeared in more than 60 ODIs, 8 tests and 31 T20Is. Quite solid at his position and role as an opener, he has delivered some handy match winning performances for his side. He has been a prolific scorer for the team in all formats and has a naturally aggressive batting style, apt for the modern day bowler-bashing cricket. His return to the side will fix a loophole in the Pakistan batting line up at the top of the order.
Chief Selector, Rasheed Haroon has been witnessed quoting that he wants to have a formidable side for this tour, especially after the team facing tough challenges, even against teams like Bangladesh & Zimbabwe, in the recent past. The rest of the team, as such, is not expected to see any surprise changes, with Ajmal unlikely to get a call after he failed to impress on his comeback in Bangladesh.
Shehzad played his last test against New Zealand, in Abu Dhabi last year, where he made a career best 176 to help Pakistan beat New Zealand. Pakistan will be tested on the Sri Lankan soil in three tests, five ODIs and two T20Is, starting with the tests on 17th June.