Alexa Bliss and Charlotte Flair Take Major Shots at Each Other During WWE Raw
Published 09/21/2021, 12:29 AM EDT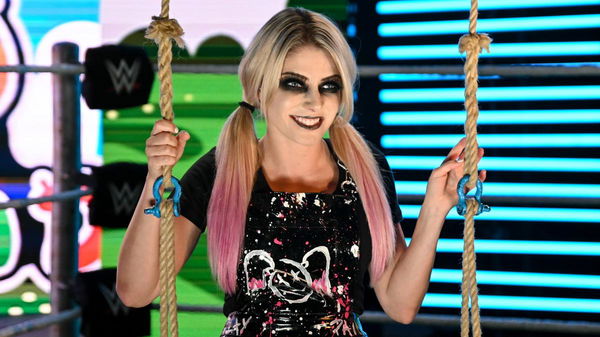 ---
---
Alexa Bliss has gotten on the nerves of the WWE Raw Women's Champion, Charlotte Flair. Last week, Bliss gifted Flair her very own version of a stuffed doll, much like Lilly.
ADVERTISEMENT
Article continues below this ad
This week, Flair joined Bliss on an episode of "Alexa's Playground". Bliss was on the mic, and as usual, welcomed us all to her playground. As she cheerfully sat on her swing with Lilly beside her, Bliss introduced her playdate for the night. It was none other than her Extreme Rules opponent, RAW Women's Champion Charlotte Flair.
The segment received a lot of audience reaction as both women delivered their promos excellently. There were times when the entire arena burst into laughter, as some comebacks were just hilarious.
ADVERTISEMENT
Article continues below this ad
Seeing Flair without her "Charly" doll, Bliss pointed it out. However, Bliss anticipated something like this and brought Charly herself. Flair had enough as stated that Bliss was embarrassing herself. 'The Queen' didn't want Charly. She wanted Alexa Bliss, the old Alexa Bliss back, the Five Feet of Fury, the once upon a time championship material.
"I know you're a little crazy, but I need you to listen. Sharing this ring with me is the closest you will ever come to my RAW Women's Championship. You want to know why? Because you aren't the real Alexa Bliss. Not anymore, anyway. You can continue to lie to yourself, but I know all of this (referring to Alexa's look and the playground) is a pathetic excuse to hide how fragile you really are. You're broken. And deep down… I think you know that too," stated Flair.
Watch This Story – Big E Becomes WWE Champion, Charlotte Flair Gets A New Doll: Best Moments From WWE Raw (Sept 13th, 2021)

Charlotte Flair vs Alexa Bliss at Extreme Rules for WWE Raw Women's Championship
'The Queen' was disgusted by the thought of going from the main event of WrestleMania 35 to Monday Night Raw, playing with dolls.
"You want me to knock the sense back into you so you can finally remember who you are. If that's possible, that might be my greatest achievement yet… and that's saying a lot. So, should I do it now, or should I wait for this Sunday at Extreme Rules?" concluded Flair.
ADVERTISEMENT
Article continues below this ad
The keen-eyed fans noticed the subtle reference to Ric Flair and Bray Wyatt when both women were talking about originality. Did you?
ADVERTISEMENT
Article continues below this ad
The segment ended with Flair attacking Bliss and ripping apart Charly. The Queen means business and looks completely unstoppable at the moment.
What are your thoughts? Comment down below and let us know!