Alexander Zverev Blasts Past Daniil Medvedev to Deny Federer vs Nadal at ATP World Tour Finals 2019
Published 11/15/2019, 4:46 PM EST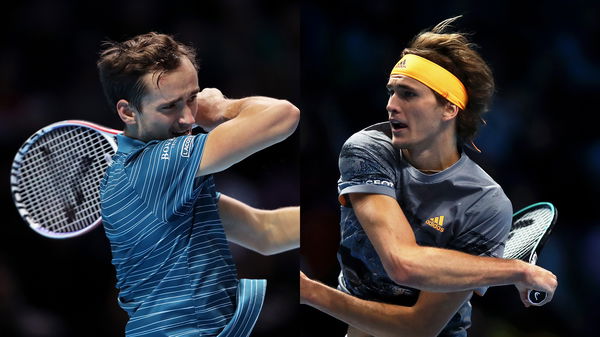 ---
---
As Alexander Zverev defeated Daniil Medvedev 6-4, 7-6(4) in the last round-robin match of ATP World Tour Finals 2019, World Number one, Rafael Nadal is knocked out from London's event. The Londoners were expecting a 'Federer vs Nadal' on Saturday but Sascha shattered their expectations by taking out the Russian in straight sets.
ADVERTISEMENT
Article continues below this ad
Set One: 
Trembling Daniil Medvedev was seen in the opening game who was making an effort to shorten his rallies. In the process of portraying his strategy, the Russian's forehand was flawed and he lost his service game. Zverev's serves were peaking as fast as 140mph, after acing a volley, the German consolidated for a 2-0 lead.
ADVERTISEMENT
Article continues below this ad
During the first game…
Smart from Sascha!
The Russian Machine, Medvedev found his grooves in the next game and held his serve to 15. Big serves from Zverev continued and he led by 3-1. Sascha's serving kept escalating with the match in progress, at 3-2 he aced with a magnitude of 144mph.
Medvedev continued to maintain the one break margin and played a clean game of tennis, however, he was unable to seek opportunities to retaliate for his service game loss.
While serving for the set, Alexander Zverev made a blunder. His a forehand drive volley went long and later, forehand passing shot on Sascha's meek drop shot gave the Russian a 0*-30 advantage on the German's serve. However, massive serves and heavy forehands gave him the set, 6-4.
Two bad points from Sascha while serving for the set.

0-30

— José Morgado (@josemorgado) November 15, 2019
The defending champion is on his way…
Set Two:
Two big servers on the fast court of London had put show an exhibition of service of games in the second set. There were no gestures of break points incoming as both Medvedev and Zverev had astute control on their service games. At 3-2 (with Medvedev in the lead) he won 10 points in a row on his serve. By 4-3, the Russian won 14 consecutive service points as his love-holds persisted.
104mph forehand from Zverev
However, at 4-4 on Medvedev's serve, the game deviated from usual tennis which they portrayed in the set until then. It was an error-strewn game from Medvedev's end and which also consisted of a double fault. Sascha has a chance to break, but the Russian erased it with an ace and later survived to lead by 5-4.
With their service games getting intact the set was pushed into the tiebreaker after their dominant holds at 6-6.
Second Set Tiebreaker: 
With Alexander Zverev placing the ball out on the first point, Daniil Medvedev led by a mini-break. Later, with Sascha retrieving the mini-break back and Medvedev flawing, the defending champion closed out the match with an ace.
Semifinals!
Nadal, Djokovic, Medvedev & Berrettini all eliminated from the ATP Finals. But their seasons' aren't over. If healthy, all plan to play Davis Cup next week in Madrid. A Nadal-Medvedev rematch in the cards when Spain faces Russia on Tuesday in one of few matches that is sold out

— Christopher Clarey (@christophclarey) November 15, 2019
Rafael Nadal. Another season of following you, another season of joy. That amazing run to the finals in Australia, the tough clay court season but those amazing finals in Rome and Paris!!! The last few games in Wimbledon SF where you refused to give up. pic.twitter.com/MlEuGfXztR

— Rafa Forever (@VamosRafa1908) November 15, 2019
ADVERTISEMENT
Article continues below this ad
ADVERTISEMENT
Article continues below this ad