Alexander Zverev Faces Off Against Bayern Munich Stars Mats Hummels and Thomas Muller
Published 06/13/2019, 8:24 AM EDT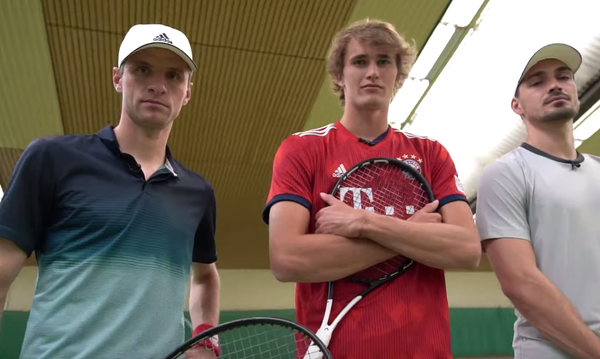 German tennis star, Alexander Zverev decided to get some downtime by hanging out with Bayern Munich players, Thomas Muller and Mats Hummels. The World Number 5 was featured in episode 9 of Bayern's #ThoMats series.
ADVERTISEMENT
Article continues below this ad
Alexander Zverev design three challenges for the two players, a volley challenge, a serve challenge and a Thomas vs Mats head-to-head clash.
Muller won the volley challenge when he completed 16 successful volleys to Hummels' 15. Hummels got his revenge in the Serve challenge, though it was much harder, with Zverev serving. The final score read, 2-1 in Hummels' favour, as Zverev's serve can often be difficult.
Finally, in the 1-v-1 showdown, Thomas Muller triumphed over his teammate with Alexander Zverev acting as the umpire. Trash talk was HEAVILY encouraged as the football stars engaged in banter.
For more tennis news, visit Troll Tennis.com.