Allegri worried about praise being heaped on Dybala
Published 11/25/2015, 4:29 AM EST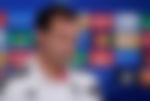 ---
---
TURIN (Reuters) – Juventus coach Massimiliano Allegri feels that too much praise is being heaped on Paulo Dybala and says the striker needs peace and quiet to fulfil his potential.
ADVERTISEMENT
Article continues below this ad
Dybala, 22, was signed from Palermo for around 40 million euros (£28 million) in the close-season as a replacement for his fellow Argentine Carlos Tevez.
He has already scored six Serie A goals despite having only been included irregularly in the starting lineup and supporters have already become frustrated at Allegri's refusal to field him more often.
ADVERTISEMENT
Article continues below this ad
Allegri said on Tuesday said that he had still not decided whether he would choose Dybala or Mario Mandzukic, whose own form has been disappointing, for Wednesday's Champions League match against Manchester City.
"I'm not worried about a media outcry if Dybala does not play, but what I am worried about is the amount of praise and compliments to a 22-year-old who is playing well but cannot carry all the responsibility for Juventus," Allegri told reporters.
"Paulo needs to be left in peace so he can keep maturing and improving."
Allegri also defended Mandzukic who has managed only two league goals and born the brunt of the criticism for Juve's indifferent season so far.
"I'm convinced that by the end of the season, he will have scored his share of goals. He's scored two already and they have been important ones, which shows that he is an important player," said Allegri.
ADVERTISEMENT
Article continues below this ad
"We are going to need everyone over the course of the season."
Juventus, second in Group D with eight points from four games, will qualify with a game to spare if they beat Manuel Pellegrini's side, who have already made sure of their place in the knockout stage.
($1 = 0.9391 euros)
ADVERTISEMENT
Article continues below this ad
(Writing by Brian Homewood in Berne; editing by Toby Davis)