Amazon Pulls Video Game Back Into Beta After Colossal Failure
Published 07/01/2020, 7:24 AM EDT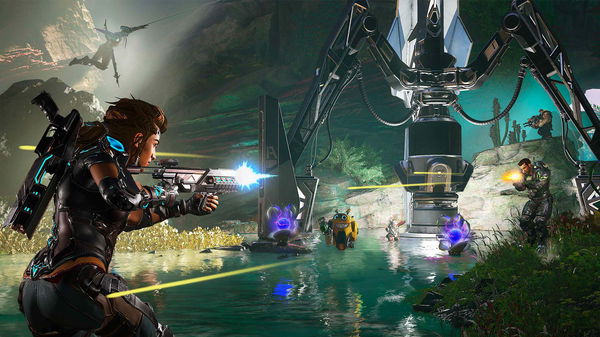 Sometimes things don't go as planned, even if you are the biggest corporation on the planet. That is exactly what happened with Amazon's recent video game venture. Amazon and the studio, Relentless, has pulled the game back into closed beta only a month after releasing it.  
ADVERTISEMENT
Article continues below this ad
Crucible is a free-to-play team-based action shooter. The game lets you pick characters from a wide roster that includes humans and aliens. Players will work with their teammates against opponents, to take down creatures, and to harvest essence in-game. 
Amazon's first big-budget video game fails
ADVERTISEMENT
Article continues below this ad
The game was initially released in May 2020. It opened up to mostly negative reviews and failed to gain a following. The game tried incorporating many elements into a single package and did not quite deliver. 
The team announced the news in a blog post and has mentioned that they'll continue working on the game to make for a better experience. 
"Crucible is moving to closed beta. We'll continue following the roadmap we laid out previously and working on map, combat, and system changes to improve the Heart of the Hives experience as well as implementing other improvements based on your feedback and what we think the game needs in order to thrive"
ADVERTISEMENT
Article continues below this ad
Those who already have the game can continue playing in the closed beta. The team has also promised that devs will be playing with the community for better feedbacks. The video game will be accessible through stream and players can continue where they left off. Players can also retain their items and battle pass progress. 
The game has declining numbers from the beginning. Being a first from Amazon Studios, it has failed to live up to the hype. There is heavy competition in the market. The likes of Valorant and Overwatch has already cemented their place among fans.
All said the game will likely improve with time. The developers are looking to make major changes going forward and will rely on their community to change the dynamics of the game.
ADVERTISEMENT
Article continues below this ad
"We'll keep putting out updates, working with organizers to run tournaments, talking with you on Discord, the subreddit, and our other social media channels, and making Crucible better and better with your help"
Many games in the past have gotten better with updates and tweaks. Hopefully, Crucible makes it to that list.