Amol Muzumdar, the unsung Hero
Published 09/28/2014, 2:26 AM EDT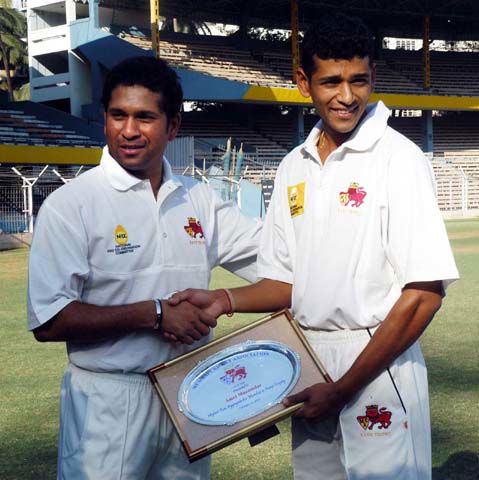 ---
---
1988, Harris shield Tournament was most probably the turning point of Sachin Tendulkar's career where he along with Vinod Kambli stitched a world record partnership of 664 runs.The former went on to win the highest laurels in the game of cricket, while Kambli had his moment of fame before fading away.
ADVERTISEMENT
Article continues below this ad
However, waiting in the dressing room, all padded up and raring to go after the first wicket fell, was a 13 year old kid named Amol Muzumdar. Unfortunately for him, he never got a chance to showcase his talent in that particular match as Kambli and Tendulkar remained unbeatable and the innings was declared. This long arduous wait perhaps symbolizes his career, where he kept waiting for a call up to the Indian team, but the opportunity eluded him every single time.
Probably his only mistake was that he was born in the wrong time…… The golden era of Indian cricket, where the likes of Sachin,Dravid, Ganguly and Laxman were in the spotlight. Had he been born in a different era, he would have waltzed into the national team with ease. Such was his tenacity and class as a batsman. "I feel lucky to have played in that era. It was tough to break into that team. I did not think I lacked in anything. Just that mine coincided with theirs and each of them played a minimum of 125 Tests," Muzumdar said. "But I always thought there would be an opening for me somewhere. I hoped that one year I'd make an entry (into the Indian team) but that never happened."
ADVERTISEMENT
Article continues below this ad
A proper right handed middle order batsman, cast in the traditional mould , he had a sound technique and was probably the best contemporary Bombay (now Mumbai)representation of the so-called "Bombay School of Batsmanship" – a tradition which emphasizes defensive technique, immense concentration, a willingness to bat for long periods, and a hatred for giving away one's wicket.
A product of Shardashram School and Coach Ramakant Achrekar, Muzumdar came up through the Bombay ranks – he starred for Bombay U-16, and then led Bombay to a national U-19 title. On making the Bombay side he burst into national view immediately, scoring 260 on first-class debut against Haryana in the knockouts – an international first-class record for a debutant till date.
The scintillating debut, followed by a string of consistent knocks, the young Muzumdar being hailed as the 'next Sachin Tendulkar', was soon drafted as the vice-captain of India Under-19 squad.
He went on to average over a hundred in his debut season, including his top-scores for Bombay in the Ranji final.
In the 2006-07 , he was appointed as captain and led the team to victory in the Ranji Trophy. In January 2007, he became the highest-ever run scorer in the Ranji Trophy for Mumbai beating the record set by Ashok Mankad.
In 2008-09 season, after a poor run of form, Amol joined Assam (who were in the plate division), following the footsteps of fellow teammate Sairaj Bahutule. "I always thought I could offer something more to the states, Assam and Andhra that were in the Plate group. The first season I went to Assam, they qualified for Super League," Muzumdar proudly said.
The happiness though, was short lived as Assam was relegated in the very next season. He then signed up for Andhra Pradesh, and even after so many years his cricketing acumen appeared intact, as he scored close to a 1000 runs for Andhra in the 2012-13 Ranji season, at an average of nearly 80, emerging as one of the top run-scorers in the tournament.
ADVERTISEMENT
Article continues below this ad
His retirement from the game has certainly left a big void in the Indian domestic circuit. Tendulkar's message said it all about Muzumdar's career. "The longevity of your career shows the determination and commitment to the game," Tendulkar wrote.
Many people might not know his name in the future, he is certainly not as famous as his senior school companion and Mumbai team mate Sachin , though they were both coached by the same guru, and his story may well be forgotten as one among several other talented sportsmen, who failed to make it to the highest level in their individual sport, but he does deserve credit and a silent applause for sheer commitment to the game for more than two decades……
a one sided love affair which ended as one of the most tragic romantic relationships in cricketing history.
ADVERTISEMENT
Article continues below this ad