Amouranth Gives Her Stance on the Possibility of Underage Twitch Creators Doing Hot Tub Streams
Published 05/11/2021, 11:56 AM EDT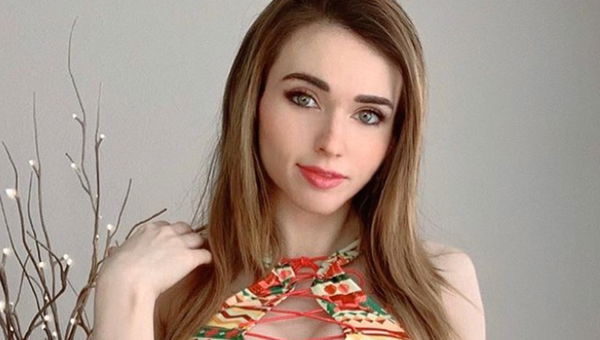 ---
---
Twitch has earned a lot of flak from its creators following the popularity of Hot Tub streams on their platform. Creators like Amouranth, IndieFoxx, and many more have gained a lot of subscribers and viewers for using this meta. But other streamers and viewers believe that the platform should adopt measures to reduce the exposure of such content.
ADVERTISEMENT
Article continues below this ad
Recently, a Twitch creator pointed out a major flaw in the company's Terms and Conditions which allowed underage creators to do Hot Tub streams on their channel. Popular creator Amouranth gave her views on this situation.
a Scuffed podcast episode when the conversation drifts to dicks. Imagine a 13 year old streamer doing a wife swap stream. Imagine even just a 13 year old streaming chilling with their significant other in a bed (not doing anything just streaming a cuddly moment)

— Kaitlyn (@wildkait) May 10, 2021
ADVERTISEMENT
Article continues below this ad
Amouranth talks about the possibility of underage streamers doing hot tub streams
Amouranth recently tweeted on her private account about the messy situation involving hot tub streams. She mentioned that viewers and creators shouldn't use this possibility as a litmus test because it's 'ridiculous'. She noted that there are a lot of different settings that could be inappropriate for underage creators. Along with that, she even gave examples of such hypothetical situations which could be deemed sexual and inappropriate for a young streamer.
She stated that it could be quite awkward for a teenage streamer to be part of a podcast that might involve some sexual conversations. Other than that, she also believed that viewers might also take issue if the underage creator ever chilled around with their significant other live on stream.
Imagine a 13 year old drinking or smoking on stream etc, imagine a 13 year old "questing" in the way the term used to be used on twitch. Even in GTA role play you'd have to water it down a ton in certain situations if you knew a 13yo was present

— Kaitlyn (@wildkait) May 10, 2021
Should Twitch ban sexual innuendos and jokes?
ADVERTISEMENT
Article continues below this ad
Amouranth continued by asking an important point of whether the platform should ban sexual jokes or innuendos because it was inappropriate for an underage creator. Along with that, she also talked about other situations that could also be problematic if teenage streamers were involved.
She mentioned that it would be weird to see any dating advertisements on streams of these underage creators. Amouranth also pointed out that fans would be outraged if these streamers got drunk or smoked on their livestream. Finally, she also noted that it would also be awkward to see them play GTA RP, where they might find a lot of sexual innuendos as well.
It's clear to see how problematic it would be if teenage streamers became involved in such situations. Amouranth believed that hot tub streams fell into the same category of content. She explained that it would be hard to justify a ban for hot tub streams if Twitch allowed other sexual innuendos on their platform. She also pointed out that there are no measures to prevent their streams from having any adult advertisements.
ADVERTISEMENT
Article continues below this ad
In the end, it's clear to see that Amouranth doesn't support the removal of Hot Tub streams from the platform. Fans have always talked about the long list of problems associated with this meta. But at the same time, she also made some significant points regarding awkward sexual innuendos involving underage creators.
Trending Stories