Amouranth Reveals the Staggering Figure She Lost Due to Twitch Removing Ads From Her Channel
Published 05/21/2021, 8:40 AM EDT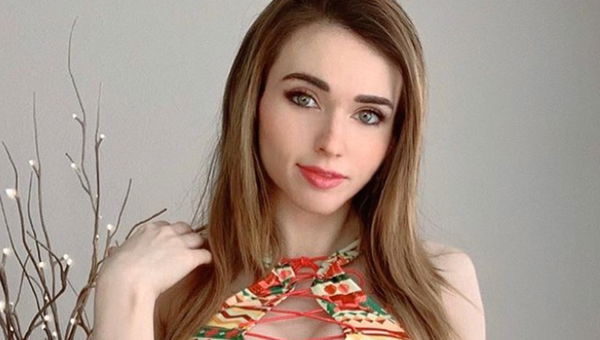 ---
---
Streaming platform Twitch finally decided to come down hard on the ongoing hot-tub meta. Many popular streamers such as xQc and Ludwig had criticized the streaming practice. However, it was a cash cow for streamers like Kaitlyn "Amouranth" Siragusa, who rose to popularity after streaming in the IRL category. Unfortunately, this will no longer be the case as Twitch turned its back on hot-tub streamers.
ADVERTISEMENT
Article continues below this ad
The streaming platform has indefinitely suspended ad revenue on Amouranth's channel. Directly or indirectly, Twitch made a statement about its opinion on the ongoing meta on the streaming platform. As a quiet triumph for those who opposed the hot-tubs streams, Amouranth has taken a major hit to her pay.
Amouranth set to lose approximately $500K
ADVERTISEMENT
Article continues below this ad
After Twitch suspended the ad revenue on Amouranth's channel unannounced, the streamer took to Twitter to rant about her troubles. Ironically, this came right after Kaitlyn admitted that she knows she is hurting Twitch's ad revenue with her streams. However, it turns out the streaming platform would rather take away the streamers' pay than hurt its own revenue.
Amouranth was answering her fans' queries on Reddit following the suspension of her Twitch ad revenue. One of these questions asked the popular hot-tub streamer the exact amount she earned from the ads on her streams. Kaitlyn revealed that she made $35-40K a month from ads on her channel.
According to the figures revealed by Amouranth, it seems like Twitch just handed a massive pay cut. The hot-tub streamer ended up losing close to half a million dollars in annual ad revenue. Clearly, Kaitlyn is not going to be happy about the way Twitch has treated her. She has been trying to contact the streaming platform and settle the issue.
Streamers are earning a staggering amount from Twitch ad revenue
An interesting detail that Amouranth's recent debacle with Twitch revealed is the staggering amount of money these streamers earn from Twitch's ad revenue. If Amouranth, who averages 500k views on her VODs and her streams peak around 50k live viewers, can earn almost half a million dollars in ad revenue, streamers like Shroud and xQc would be earning much more.
ADVERTISEMENT
Article continues below this ad
If Amouranth is making $500k a year off Twitch Ads then Jesus mother of Lord Farquaad what the frick is xQc making?????

— Jake Lucky (@JakeSucky) May 20, 2021
Although these streamers haven't exactly revealed how much money Twitch puts in their bank accounts by displaying ads on their streams, they could easily be earning a seven-figure sum annually. Naturally, they would not want to do anything to upset the platform and get their ad revenue suspended. Unfortunately for Amouranth, she would have to work things out with Twitch or find a new way to entertain her audience.
ADVERTISEMENT
Article continues below this ad
ALSO READ: Ludwig Calls Amouranth Out for Being the 'Smartest' Streamer