Ana Carrasco Becomes First Woman to Win a World Championship Race
Published 09/17/2017, 5:52 PM EDT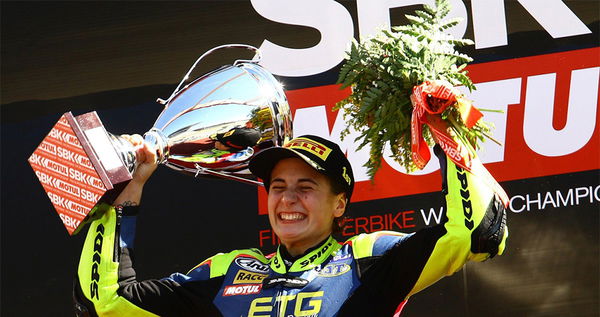 ---
---
Spanish rider Ana Carrasco created history when she took her debut win in Portugal on Sunday. Carrasco is currently competing in the 2017 World Super Sport 300 Championship. The 20-year old started on the front row in 3rd position alongside Alfonso Coppola and Marc Garcia.
ADVERTISEMENT
Article continues below this ad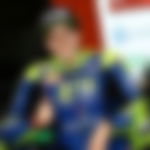 Coppola got off to a slow start and the other two got away well. The battle was intense and raged on the entire race. Soon a group of 3 became a group of 5 as Mika Perez and Daniel Valle joined the party. Heading into the final lap, Garcia was leading from Carrasco and Coppola. As the riders exited the final corner, Garcia thought he was home and dry. But, as the saying goes, 'it ain't over until the chequered flag drops'. Carrasco seemed to have got the memo as she used the slipstream to absolute perfection. With that, she slingshot past her compatriot and won her first race.
ADVERTISEMENT
Article continues below this ad
She came from Murcia in Spain and is the sole rider for the ETG Racing team. Prior to this, she made her debut in Moto3 in 2013 as a 16-year old alongside eventual winner Maverick Vinales. After having a relatively mediocre first half, her results began to pick up and she scored her first points with a 15th place finish in Malaysia. She improved upon that to finish 8th in the season-ending Valencia GP. However, in 2014 and 2015, she was unable to reach the points on any occasion. Her highest position in those 2 years was an 18th place finish in Le Mans and Phillip Island.
In 2016, she joined the CEV Moto2 European Championship but did not meet much success. Her fortunes changed when she joined the ETG Racing Team for the inaugural Supersport 300 World Championship. She is one of 2 female riders in the championship, the other being New Zealand's Avalon Biddle. Carrasco had a solid start to the season with consistent points finishes and she is currently 7th in the championship. With this win, she has set a precedent for other female riders.
Back when she was in Moto3, there was another female rider, Maria Herrera. Herrera is still racing in Moto3 and has had a handful of points finishes. Her highest being 11th in the 2015 Australian GP.