Jan-Lennard Struff Upsets No.7 Seed Andrey Rublev in a Thrilling Five-Setter in 1R of French Open 2021
Published 06/01/2021, 10:48 AM EDT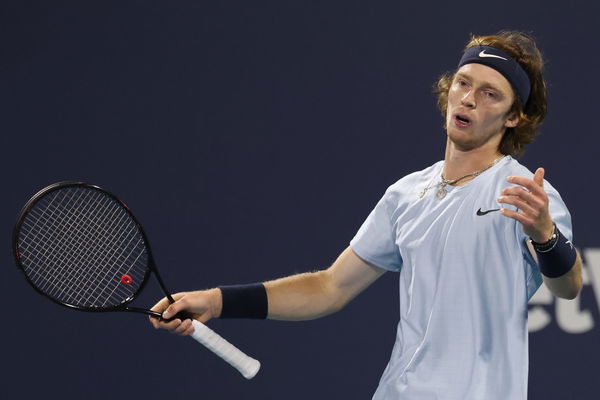 ---
---
World No.7 Andrey Rublev was stunned by World No.42 Jan-Lennard Struff in the first round of French Open 2021. The German hit winners and aces to defeat Rublev in the five-set thriller.
ADVERTISEMENT
Article continues below this ad
Andrey Rublev surprised by Jan-Lennard Struff at French Open 2021
In the first set, Struff had more aces and a slightly better winner count than Rublev. Struff was serving fast and accurate early on. Surprisingly, he caught Rublev initially and took a 3-0 lead. After a lackluster start, Rublev held a comfortable game, 3-1, and even had a breakpoint later. However, Struff saved it with his serve and led 4-1.
ADVERTISEMENT
Article continues below this ad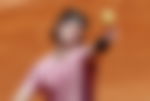 Rublev's problems continued to mount on as he was 5-2, 40-0 down on his serve. But the Russian played three good points to save his serve and the set. Struff couldn't win the set on Rublev's serve, however, he did it using his serve. From 30-30, Struff hit two aces clocked at 212 KMPH and 211 KMPH each to win the set, 6-3.
Rublev doesn't convert his chances
Rublev had gotten very few chances to break Struff. However, as Rublev's returns improved a little, he had more confidence and saw more opportunities. In 11 minutes, the Russian already had a lead of 3-0, and that lead was successfully extended to 4-1.
Despite trailing, Struff was going along with Rublev. At 5-3, Rublev had the chance to serve out the second set. However, he quickly saw himself 40-0 down. In a lengthy game of seven minutes, Struff had six break points, and converted the last one to stay in the set 5-4. He later leveled the set 5-5 and looked imposing over Rublev.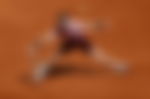 The set turned towards the tiebreaker, which was quite close. Struff was the first player to have a set point, but Rublev saved it with an ace. However, an uncanny mistake gave Struff the second set point at 7-6, and he converted that with an ace to lead 6-3, 7-6(6).
Andrey Rublev saves the match
Rublev started the third set better than Struff. With Struff serving at 1-1, Rublev pounced at any mistakes from the German. He pushed Struff towards the net and hit a few passing shots to even see two break points. However, Struff's serve was there to save him. Both the players were sharp with their serve as the set reached 3-3.
At 3-3, Struff's serve was struggling a little and hence Rublev was more aggressive. He troubled Struff again with movement and finally broke the German's serve to lead 4-3. Rublev would soon find himself serving for the third set at 5-4. But Rublev again had problems closing the set. It took Rublev eight minutes and five set points to take the third set, 6-4.
Rublev's comeback
The fourth set saw Rublev in command. Struff was slowly losing his grip over his serve and hence Rublev was making inroads. First, at 2-2, Rublev saw a chance to break however he couldn't. Later, at 3-3, Rublev needed two more opportunities to finally break Struff. Rublev then led 4-3.
Rublev continued his charge with his scintillating forehand. He saved his serve to lead 5-3 and later broke Struff again to take the fourth set 6-3.
Jan-Lennard Struff triumphs
ADVERTISEMENT
Article continues below this ad
Shrugging off the disappointing fourth set, Struff was back with a bang. He continued his earlier tactics of pushing Rublev behind the baseline with his forehand. With Rublev serving at 1-1, Struff broke the Russian to take an upper hand in the tie. The German then took his lead to 4-2.
ADVERTISEMENT
Article continues below this ad
It was all smooth sailing for Struff until he started coming to the net again. Rublev always caught Struff at the net and hence saw two break points at 3-4. However, Struff again resorted to his trusted service and held his serve to keep his lead 5-3. Struff didn't hesitate and took the final set 6-4, knocking Rublev out of French Open 2021.