Animal Crossing: New Horizons- Katrina Brings These Features Which You Certainly Missed in Update 2.0
Published 11/22/2021, 9:42 AM EST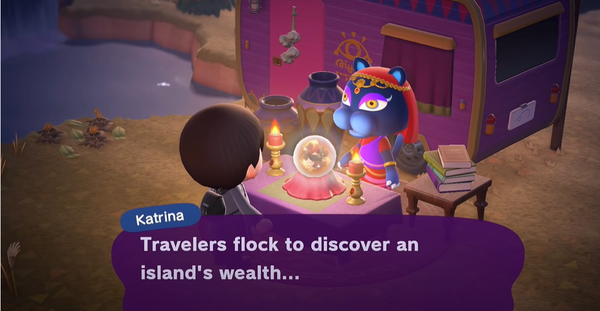 ---
---
Several players love to interact with new villagers after the 2.0 update in Animal Crossing: New Horizons. Furthermore, Nintendo also introduced some past popular characters for users to interact with at Harv's Plaza. Harv's Plaza is a place where wandering salesmen set up their shop.
ADVERTISEMENT
Article continues below this ad
On your first visit to Harv's Plaza, you will notice seven Lloyds asking for donations to open the shop. You have to donate 100,000 bells to open one store at the place. One of the shops is owned by Katrina, which helps players to know about their fortune. However, other than that, there are some secret Katrina features that not everyone knows about.
DIVE DEEPER- Animal Crossing: New Horizons Update 2.0 Made Building in the Game Even Easier
ADVERTISEMENT
Article continues below this ad
Hidden Katrina features in Animal Crossing: New Horizons
Katrina impacts the good and bad luck of your avatar as well as villagers' blessings in New Horizons. When you visit her in Harv's Island you can get a fortune, which tells you whether you will have good or bad luck for the day. Unfortunately, Nintendo hasn't described how good and bad luck will have an impact on you in the game.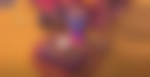 However, these are some secret effects that completely change how your days go in ACNH. Good and bad luck is broken down into four categories: belongings, health, money, and friendship. Moreover, Katrina will inform you which of them is affected after you receive your fortune.
Good Luck impact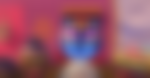 Belongings- If you have good luck with belongings, you will see neither of your tools will be broken for an entire day. Furthermore, you will receive more gifts from your villagers and a guaranteed rare Kapp'n Island.
Money- You will notice you can earn more bells if you receive good fortune related to money. Balloons will drop 3,000 bells instead of 1,000 and money rocks will drop more bells. Not to mention, chances of getting golden nugget is increased from 1% to 11% and trees will drop 300 bells.
Health- You will get double stamina after consuming food.
Friendship- This will give one friendship point to a random villager. In addition to that, the chance of villagers approaching you and giving you a gift will be increased.
ADVERTISEMENT
Article continues below this ad
Bad Luck impact in Animal Crossing: New Horizons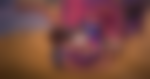 Belongings- You will notice that your tools break very easily. Furthermore, you will receive less gifts from your villagers and the chances of getting a rare island is close to zero.
Money- You might have a rough day if you receive bad luck in money from Katrina's fortune. You will see no glowing spot and money rocks for one day. Moreover, there will be zero chance of finding gold nuggets. Lastly, Gold Island will not be available on Nook Miles tours.
Health- You will get half stamina from food and you will also trip a lot while walking on the island.
Friendship- Unfortunately, you will reduce three friendship points with a random villager on your bad day.
ADVERTISEMENT
Article continues below this ad
Watch this story: Video Game Franchises Returning to Consoles