Anthony Joshua Makes Huge Claim Ahead of Andy Ruiz Rematch: "I Am Gonna Whup Him"
Published 11/23/2019, 3:58 AM EST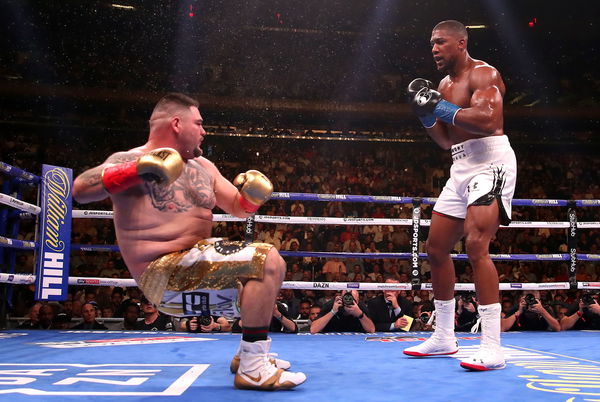 ---
---
Anthony Joshua takes on Andy Ruiz Jr in the most anticipated rematch of 2019`on December 7th in Saudi Arabia. The first fight did not go in the favor of former champion as he lost in the first encounter against Ruiz. However, a focused and determined, Anthony Joshua will be coming for vengeance and to regain his throne next month in Saudi Arabia.
ADVERTISEMENT
Article continues below this ad
Talking about his training for the rematch and the changes he has made, Joshua said:
"Sparring partners, they have been giving me hell. I am working well-recognized athletes and that's the best way I can get to a fight. I have been sparring for a long period of time now. And it just gets you battle-hardened. "
ADVERTISEMENT
Article continues below this ad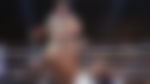 Apart from his training routine, it seems that Joshua will be entering the ring lighter this time. Fans have been speculating that Joshua has dropped weight so that he can be faster this time against Ruiz. However, that does not seem to be the right gameplan to follow if you are Anthony Joshua. Declining all that speculations Joshua addressed the weight drop and said:
ADVERTISEMENT
Article continues below this ad
"Nah, it's quite interesting cause the weight thing has been spoken about a lot. But I always say that you don't make your weight as a heavyweight and then focus on training. You focus on training and if you feel good wherever weight you are you work around that. So all I have done is focus on my boxing aspect. It's not like I have got to this hit this target, and that means I am ready."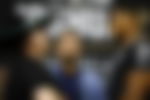 Joshua did not have to take the fight against Ruiz. Initially, he was supposed to fight Jarrell Miller. Now there is a rumor that Joshua got knocked out during the training for the fight, which might have affected his performance during the fight. However, that's all in the past as the former champion is looking to make a statement in the rematch as he is about to face the toughest opponent of his career again. Joshua continued:
ADVERTISEMENT
Article continues below this ad
"I am gonna whup him. Show how great I am. Cause they think he is that great, so when I beat him I want everybody to bow to my feet, tell me how great I am. I couldn't beat Ruiz Jr before and get the credit I deserved. You saw me in the ring [before the fight] – I wasn't fighting King Kong, was I? [I didn't have] that mindset. Apparently, I'm fighting the quickest hands and the best fighter in the division. So once I beat him I want everybody to bow to me."
The heavyweight division in boxing has not been this exciting for the past few years. While Joshua vs Ruiz 2 is about to go down, fans are eagerly waiting to witness the rematch between Wilder and Fury.