Antoine Griezmann Is Euro 2016 Biggest Winner
Published 07/14/2016, 11:55 AM EDT
---
---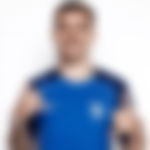 ADVERTISEMENT
Article continues below this ad
Antoine Griezmann may not have been a name you recognized a few years ago, but Euro 2016 has cemented the diminutive Frenchman as one of the World's best. Whilst Portugal won the tournament, and Wales and Iceland stole the fans hearts, Griezmann arguably was the biggest winner, seeing his profile rocket in football and confirm what Atletico Madrid fans knew. Antoine Griezmann is special.
ADVERTISEMENT
Article continues below this ad
Despite his Germanic Alsace name and French jersey, Griezmann's roots actually lay ironically in Portugal. His grandfather Amauro Lopes was an immigrant and if Portuguese naming customs were in France Antoine's name would be Antoine Griezmann Lopez. There is also a footballer in the lineage as that same Grandfather played professionally for Paco de Ferreira before moving to France in the 50's. He settled in Macon, a small town outside Lyon where Griezmann's shirt can be seen in the local football club, Sporting Macon, which represents the large Portuguese community in the town. It was here where the bedrock of Griezmann career was laid.
It was not all plain sailing and rejections from almost all major French clubs left him dejected. He was told he was too small and not physically powerful enough to make it. In a trial match for Montpellier he showed what a small footballer can do and captured the attention of Real Sociedad scouts attending the game. He was able to remain in France for school in Bayonne, and traveled across the border for training in the evening. Sociedad gave him a base in Spain to kick on in a big league and his move and subsequent performances for Madrid helped the team get to two Champions League Finals and a La Liga trophy.
ADVERTISEMENT
Article continues below this ad
It is Euro 2016 where the world has sat up and noticed the once bitter small player. Griezmann scored 6 goals in the tournament collecting the Golden boot along the way. That was three more than any other player. It is also remarkable that after just one Euros he is already the fifth highest goal scorer ever at the event behind the likes of Shearer and Platini who played multiple Euros. It was the most goals scored at a Euros as well since the French Legend Platini got 9 in 1984. Teammate Dimitri Payet was seemingly on his way to winning player of Euro 2016 with some incredible goals and performances, but it was Griezmann who kept scoring and importantly carried on in the knockout stages, getting two against Germany and two in the rout against Iceland. Despite all this, he doesn't think he will win a Ballon D'Or this year at least believing that accolade will go to the lifter of the Euro's Cristiano Ronaldo. "It will come if it has to come," Griezmann said. "Am I still in with a chance of winning? Cristiano Ronaldo won the biggest competitions. I think that that's it — it's done."
Griezmann surprised even me with his ability to always be in the right position at the right time. It was hard to see what kind of place or responsibilities he had in the team, but he seemed to be everywhere. He nipped in at every opportunity always beating his man to the ball, and his runs were always inviting his teammates passes. This plus his goals has led to him being on the lips of everyone in European football. As for what the future holds for him, he signed a four-year contract with Atleti on June 23 and has already rejected the advances off PSG, but if he continues in the vain of form he is in and becomes a marketable brand I am not sure how long they will be able to keep the big fishes away from the new Napoleon.
ADVERTISEMENT
Article continues below this ad
Bio: Joshua Mason is a huge Sports fan from the UK. He loves finding out about new sports, teams and athletes. He has written and created content for Ubitennis, Euro 2016, betting tips  and The Worldly Magazine among others and is looking forward to adding Essentially to the list!