Antonio Brown Makes a Dramatic Switch to New England Patriots from the Raiders
Published 09/08/2019, 5:53 AM EDT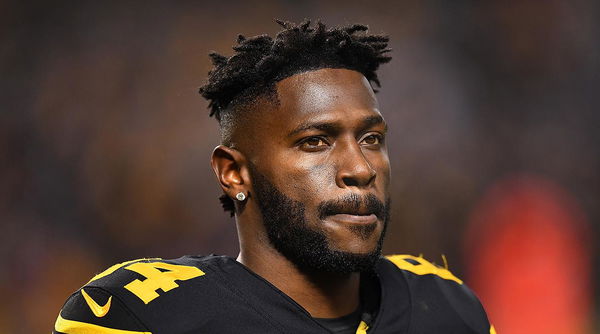 "Antonio (Brown) is back today. We're really excited about that and ready to move on. He's had a lot of, obviously, time to think about things and we're happy to have him back and I know Raider Nation is excited about that, too."
ADVERTISEMENT
Article continues below this ad
Hardly two days after Oakland Riders coach Jon Gruden said this, Brown is not a part of the team anymore.
The NFL confirmed on Saturday that Brown will be joining New England Patriots.
ADVERTISEMENT
Article continues below this ad
There's a lot more to go back in the Brown story. He did not attend the practice sessions, he then went against the new helmets made mandatory by NFL and the recent rifts with the Raiders coach and General Manager. He was also fined on more than one occasion.
But after all this, until a day ago, he was expected to be back for Raider's opening game of the season.
Both the coach and the player looked "excited" ahead of the season opener.
"I'm excited to be out here today," Brown said after his coach confirmed he was back. "I want to apologize to my teammates, the organization. Enough talk, man. I'm excited to be out here with my teammates. I'm grateful for all the fans. I'm excited to be a part of the Raiders, and I'll see you guys soon."
Hardly a few hours later. the emotions changed. Brown was seen posting a photo of himself in Patriots jersey on Instagram.
"We just exhausted everything," Gruden said after that. "We tried every way possible to make it work. All I'm going to say is, it's disappointing."
"It's been an emotional thing for me. I was very hopeful about what he could bring here. Unfortunately, it's not going to happen. He's a good guy. He's misunderstood by a lot of people but he's a good guy, a great player and I hope he gets what he's looking for."
Coach Gruden went from being extremely excited on Friday to utterly disappointed on Saturday. This extraordinary turnaround in his emotions in a matter of few hours can be credited to a few announcements on one man. Antonio Brown.
It started when Brown said "RELEASE ME" on Instagram.
An image on his Instagram post read, "You are gonna piss a lot of people off when you start doing what's best for you."
"I have worked my whole life to prove that the system is blind to see talent like mines. Now that everyone sees it, they want me to conform to that same system that has failed me all those years…Release me," the caption to the image read.
ADVERTISEMENT
Article continues below this ad
The Raiders shortly confirm that they release Brown and in no time, the rumour of him agreeing a deal with the New England Patriots becomes a fact and he posts a photo in the Patriots jersey.
ADVERTISEMENT
Article continues below this ad
Brown won't be eligible to play for the Patriots in the opening week, but will come into the team for the second week.