Antonio Giovinazzi Has a Unique Stat to his Name After the Singapore Grand Prix
Published 09/22/2019, 1:37 PM EDT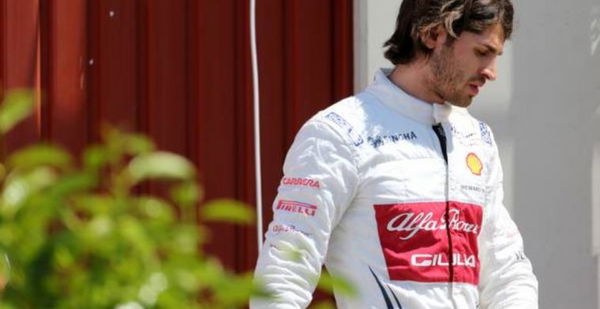 Alfa Romeo driver Antonio Giovinazzi had a great day in the office during the Singapore Grand Prix 2019. The Italian driver was among the last drivers to dive into the pits for fresh tyres. At one point, he actually found himself leading the race, and he became the first non-Mercedes, Ferrari or Red Bull driver, to lead a full lap.
ADVERTISEMENT
Article continues below this ad
Admittedly, during that crazy German Grand Prix, months ago, Lance Stroll in the Racing Point was leading. However, he did not complete a full lap of the circuit, so it didn't count. So, the record officially belongs to Giovinazzi.
ADVERTISEMENT
Article continues below this ad
It was also the the first time a Sauber led a Grand Prix since the 2013 Spanish Grand Prix. In addition to that, it marked the first time an Alfa Romeo led a Grand Prix since the 1983 Belgian Grand prix.
Admittedly, Antonio Giovinazzi had not pitted yet, while the top 6 drivers had fresh tyres. However, even on older and worn tyres, the Italian was able to hold his own against the other drivers. While, eventual race winner, Sebastian Vettel got past him after a while, along with the rest of the top 6, before his pitstop, Giovinazzi got his 15 seconds of fame.
ADVERTISEMENT
Article continues below this ad
However, it later transpired that the 25-year old picked up a 10-second time penalty for driving too close to a crane during one of the three Safety Car periods. However, it made no difference as he finished 10th, 16 seconds ahead of 11th placed Romain Grosjean.
ADVERTISEMENT
Article continues below this ad
Antonio Giovinazzi puts a Sauber into the lead of a Grand Prix for the first time since Spain 2013, and an Alfa Romeo in the lead for the first time since Belgium 1983! #SingaporeGP

— Sean Kelly (@virtualstatman) September 22, 2019