Apex Legends Lore Video Teases the Idea of Ash Being Dr. Reid
Published 06/26/2021, 10:26 AM EDT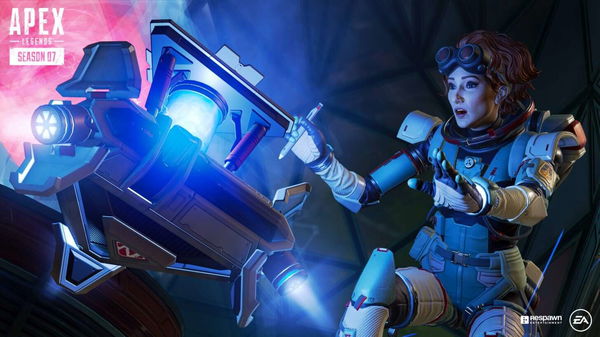 ---
---
Many players of the popular Battle Royale game in Apex Legends haven't been a huge fan of the current season. The gameplay has been a massive disappointment for many community members, and it doesn't seem like it will improve in a long while. Along with that, the new Legend in Valkyrie hasn't really impressed the fans as well.
ADVERTISEMENT
Article continues below this ad
But, the developers have done a fantastic job continuing the lore of the game. Players have really enjoyed the small clips and trailers that reveal the story of these characters. Earlier this week, the video titled 'The truth' revealed some of Pathfinder's origins. Recently, they released another animated short called 'Red Flags' involving Horizon and Wattson, along with Ash, the Simulacrum Pilot.
ADVERTISEMENT
Article continues below this ad
Ash and Horizon feud in Apex Legends lore clip
The clip starts off with the game's legends in Wattson and Horizon. In it, players can see the effort the characters are putting in to repair the vine-infested Olympus map. As they talked about this infestation, Ash walks into the room. Ash runs the underground deathmatch competition known as the Arenas in Apex Legends.
Ash entered the room to ask about their progress in repairing the Arena. During their conversation, things get a bit heated after Horizon ranted about her caring about the Arena more than the people in it. Suddenly, the room rumbles a bit, and the ceiling breaks on top of Horizon. But Ash saves her from the falling rubble.
Is Ash Dr. Ashley Reid?
ADVERTISEMENT
Article continues below this ad
Horizon then apologizes to Ash for losing her temper. Ash later leaves the room after promising that she will give them better equipment to work with. Before she left, Ash mentioned that Horizon is doing a lot for Lillian Peck's Legacy, and that her son Newton would be proud of her. After she left, Horizon realized that Ash knew her son's name. But Wattson mentioned that Ash must have found that out from Pathfinder's statue.
Fans of Apex Legends know about Horizon's tragic backstory which involved her creating Branthium. She was betrayed by her assistant in Dr. Ashley Reid, who stole it and sent her shuttle into a black hole's orbit. She somehow escaped from it, but it took her 87 years as time moves differently around a black hole.
Many fans believe that Ash who runs the Arenas might be Dr. Ashley Reid, who is also the antagonist of Titanfall 2. If it's true, then fans can witness a major fight between Horizon and Ash because of the massive betrayal. It's very likely that this might be the direction that Respawn will take with the lore behind Apex Legends, and fans can't wait for it to happen.
ADVERTISEMENT
Article continues below this ad
WATCH THIS STORY- Call of Duty: Warzone vs Fortnite: Which Is the Better Battle Royale Game