Ariana Grande X Fortnite Event Rumors Strengthen as Players Find In-Game Posters Related to Her Songs
Published 07/28/2021, 10:43 AM EDT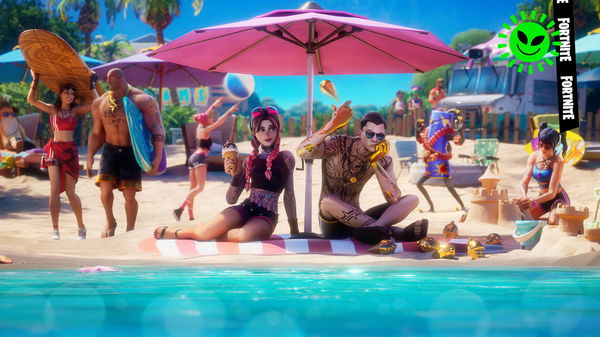 ---
---
In recent weeks, fans of Fortnite have learned a lot about the future of the game. Following the leaks about the countdown which surfaced yesterday, the community has racked their brain thinking about the upcoming event. Many believe that this might lead to some major changes for the map, including the destruction/abduction of many POIs.
However, many of them believe that the upcoming live event will be another Fortnite virtual concert. Hip-Hop artist Travis Scott and EDM Producer Marshmello made a tremendous impact with their concerts in the game, and adding another right now will definitely attract a lot of players. Many rumors point at the arrival of Grammy winning pop star Ariana Grande, and some new posters in the title might have confirmed the theory to be true.
Fortnite and the rumors of the Ariana Grande concert
For the past few days, a lot of leaks pointed towards the arrival of Ariana Grande in the game. Along with that, following the addition of the countdown, fans noted that the upcoming live event will be on Friday, August 6. So, it's not a season-ending event as players will have to wait more than a month for it. However, with a countdown of this magnitude, it seemed like the live event will be massive for players to enjoy.
Many considered other possibilities, such as the destruction of many POIs in Fortnite. Many players noticed the leaks of the abduction of Coral Castle from the game. However, the live event with Ariana Grande became very plausible, following the addition of three new posters linked to her.
Ariana Grande and her posters in the game
Recently, a Reddit post on r/FortNiteBR showcased the Grammy award-winning artist's connection to the game's three new posters. One poster showcased a diamond hammer, which is is an obvious reference to the giant mallet she wielded in the music video of her 2018 hit, God is a woman. The second one included the face of a pig with heart eyes, which is a reference to her pet in Piggy Smallz. Finally, the poster of a cloud with a rainbow falling like rain from it might be talking about her popular tune with Lady Gaga called Rain on Me.
In the end, it seems like the arrival of a virtual concert from Ariana Grande is all but confirmed. It remains to be seen how her performance will fare against the ones from Travis Scott and Marshmello. But, if it's anything close to it then fans will have an entertaining time listening to her perform her chart-topping tunes.
WATCH THIS STORY- Call of Duty: Warzone vs Fortnite: Which Is the Better Battle Royale Game
Trending Stories