Arsenal vs Manchester United: 5 key clashes that could decide the game
Published 02/28/2016, 8:26 AM EST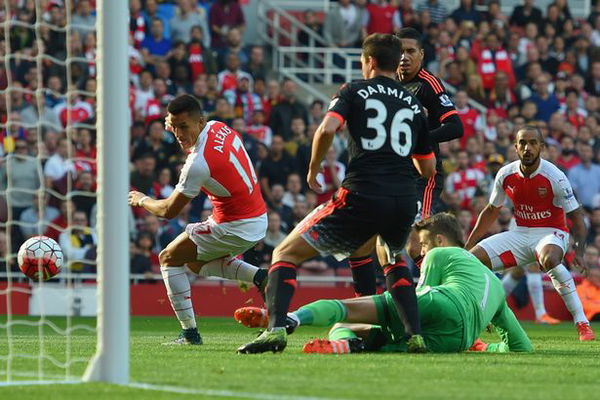 ---
---
Manchester United vs Arsenal used to be one of the blockbuster fixtures of every Premier League season. The rivalry between the two clubs had a special sort of intensity about it and the fervid hatred for each other made it all the more enthralling.
ADVERTISEMENT
Article continues below this ad
"I see players in the tunnel today, hugging one another before a game. I don't think any of the United lads would have disagreed with me; they hated Arsenal. And the Arsenal lads hated United."
Roy Keane
"Our rivalry at that time was more with United than it was with Tottenham."
Patrick Vieira
ADVERTISEMENT
Article continues below this ad
No rivalry defined this fixture quite like the ferocious hostility between the two leaders that were Roy Keane and Patrick Vieira. But while this fixture may not have the razzmatazz of old and a feisty duel resembling that of Keane and Vieira may be too much to hope for,  there will be battles between players that could determine how this game pans out. Let's take a look at 5 such duels:
1. Michael Carrick vs Mesut Ozil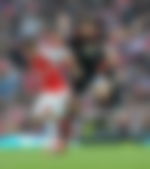 With Michael Carrick, Manchester United's win percentage is at 52.6% as opposed to the 40% win ratio when he doesn't play. That very stat is testament to how crucial Carrick is for this flailing team. He is a calming influence in the middle of the pitch with an eye for a pass but in the absence of Bastian Schweinsteiger, he may be forced to play in a holding midfield role tasked with the responsibility of shutting out Mesut Ozil,  Arsenal's most influential player on his day.
Ozil has been stunning for Arsenal this season but his form of late has come under some criticism and has also coincided with Arsenal's sudden lack of goals. He managed to get an assist for Welbeck's last gasp winner against Leicester and if Carrick doesn't hold him off, United could be in for a rough afternoon.
2. Alexis Sanchez vs Guillermo Varela/Marcos Rojo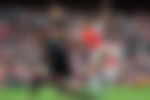 Like Ozil, Sanchez too has been struggling for form and as a result, Arsenal's goals have dried up. However, let's not forget that this is Alexis Sanchez. When he's in the mood, he's virtually unstoppable. He was key to Arsenal's 3-0 demolition of United the last time these two sides met in October and if he isn't dealt with properly, he could cause United some real problems.
Injuries have not been kind to Manchester United and nowhere more so than at the full back positions. Injuries to Luke Shaw, Antonio Valencia and Marcos Rojo saw van Gaal look to academy product Cameron Borthwick-Jackson to ease the situation. But with the youngster out with an illness and Matteo Darmian also nursing a shoulder injury, Joe Riley and Varela have been seeing much more first team football then they would've expected.
Carrick had been pushed to center-back and Blind played at left-back against Midtjylland , but manager Louis van Gaal has given United fans some positive news with Rojo apparently ready to return to action.
Whoever plays will have their hands full though and should they succeed in keeping Sanchez quiet, United's prospects of winning this game will have a massive boost.
3. Juan Mata vs Francis Coquelin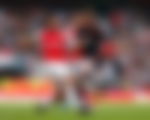 Juan Mata is the type of player who can either dominate the entire game or disappear completely. Unfortunately for United fans, he's been caught doing the latter too often. His role as United's main creative force is without question and if he is in the mood, any team that comes up against him is in for a real lesson in attacking.
Francis Coquelin has been Arsenal's driving force in midfield. A real cog in a holding midfield role, Coquelin's physicality opposed to Mata's skill and craft should be something to look out for.
4. Ander Herrera vs Aaron Ramsey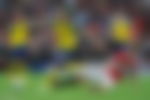 Ander Herrera's struggle for game time never seems to end. He finally forced himself into van Gaal's plans midway through last season but he has found game time hard to come by yet again this season. Herrera is loved by every United fan out there because he always seems to come up with something when it matters.  He keeps United ticking and his ability to pop up in spaces can prove to be a thorn in Arsenal's side.
Aaron Ramsey, like Ander Herrera is key to most of Arsenal's play. His work rate is phenomenal and his ability to pop up in goal-scoring positions will trouble United's nervy back four if Chris Smalling isn't fit in time for the game. Like most of his Arsenal team-mates, he hasn't been in the best of form of late and he missed some golden chances against Barcelona. If Ramsey can shut Herrera up, United will struggle to have any sort of tempo to their play and vice versa.
5. David de Gea vs Petr Cech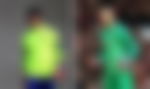 ADVERTISEMENT
Article continues below this ad
Without David de Gea, Manchester United probably wouldn't even be 6th, likewise with Petr Cech and Arsenal. Both have been crucial to their clubs this season in their own respects. Cech's presence in between in the posts has given confidence to defense in front of him. They now seem a more well organized and secure unit. Manchester United on the other hand require de Gea more than ever. Injuries have forced Daley Blind to play as a make-shift center back for most of the campaign and while he hasn't done too badly, it would still be fair to say that United might have conceded less with a proper center back in the team.
De Gea has saved United on countless occasions and the injury which forced him to miss their last three games caused panic amongst United fans with such a big game on the horizon. However, he seems to have recovered just in time and if he does play, Arsenal's frontline who are already struggling to score goals might be in for another frustrating afternoon.
ADVERTISEMENT
Article continues below this ad