Arthur LeClerc Spins and Spins Again to Crash Into Another Car
Published 08/12/2019, 9:59 AM EDT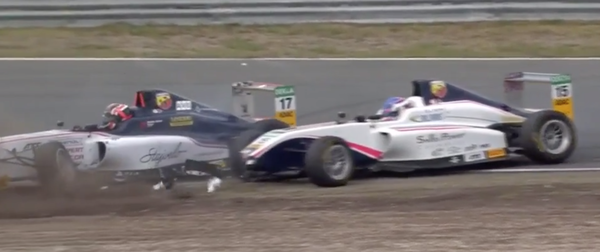 ---
---
After the hype surrounding Charles LeClerc, many believed that his younger brother, Arthur LeClerc is just as talented and fast. Unfortunately, it did not seem that way at the Zandvoort circuit during the 2019 Formula 4 ADAC championship.
Arthur LeClerc in the number 17 car, was racing when he spun off. The young Monegasque driver attempted to recover, only to spin again, right into the path of a startled László Tóth. Tóth was unable to avoid LeClerc Jr and slammed into the out-of-control car.
The spin by Arthur LeClerc also caused the number 7 car of Roman Staněk to go into the gravel. LeClerc was diving down the inside of Israeli driver Ido Cohen when he lost control of his car.
LeClerc's team, US Racing CHRS were keen on catching the home team, Van Amersfoort Racing. Unfortunately, with LeClerc crashing out, Théo Pourchaire, Roman Staněk and Alessandro Ghiretti were left to fly the flag. Pourchaire finished 7th, while Ghiretti landed on the podium in second position behind winner, Sebastian Estner.