As Serena Williams Remains Slam-less in 2020, Check Out the Biggest Upsets of the Year
Published 12/03/2020, 10:13 AM EST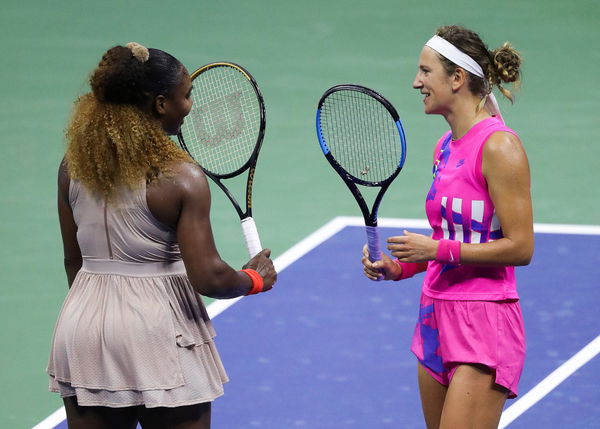 ---
---
In an unpredictable 2020 season, WTA has again delivered great matches. A feature of WTA has been the various stories of the underdogs and upsets in the past couple of years. This year was no different. We had two new Grand Slam champions and various top seeds tumbled in these elite tournaments. Serena Williams, Simona Halep were some of the high-profile players who had shock results that nobody anticipated.
ADVERTISEMENT
Article continues below this ad
Here is EssentiallySports looking back at few of the defining upsets of the 2020 WTA season.
Qiang Wang upsets Serena Williams at Australian Open 2020
ADVERTISEMENT
Article continues below this ad
The first biggest upset of the 2020 WTA season happened at the Australian Open 2020. Serena Williams was defeated by the 30th ranked Qiang Wang in the third round of the Grand Slam.
Outright, Serena was a big favorite because at the 2019 US Open, she had thrashed Wang 6-1, 6-0. But what surprised Serena was Wang's movement and service return. Wang was easily moving across the court and extending the rallies. The Chinese player was also able to negate Serena's heavy service.
Wang first served for the match leading at 6-4, 5-4 but was broken by Serena. But then later at 6-5 in the deciding set, Wang finally saw the match point and it took three match points to seal the victory – 6-4, 6-7, 7-5.
Coco Gauff defeats defending champ Naomi Osaka at Australian Open 2020
Teenage sensation Coco Gauff made her Australian Open debut in 2020. And that pinned her against the defending champion Naomi Osaka in the third round. And surely Gauff stunned the world as she beat Osaka in straight sets.
Gauff beat Osaka in just 68 minutes. The match was crisp and clean and the rallies weren't long and both the players were played well. Coco triumphed on crucial points. Break points were hard to come by for both the players but Gauff got a single breakpoint in the first set and used that to win the first set.
The second set was more open as Osaka was attacking a lot and troubling Gauff. But Gauff upped her service when it mattered. Osaka's return numbers dropped and thus never broke Gauff more than once.
Gauff won 12 consecutive points in a row on her serve, which included the winning point. The 15-year-old defeated Osaka 6-3, 6-4.
Simona Halep upset by unseeded Garbine Muguruza at Australian Open 2020
Garbine Muguruza's run to the 2020 Australian Open final is memorable because of her troublesome path involving several top 10 players. One such battle that stands out is the semifinal clash against Simona Halep.
Both the players were attacking from the first point. Almost in each game, there was a break point. There were long rallies, and Muguruza especially covered the court really well.
In the first set, Muguruza was the first to strike and served for the set. But she was denied that opportunity. Later on at 6-5, Halep had two match points which were handsomely saved by Muguruza. The set then went into a tiebreaker, which was topsy-turvy. Finally, it was Muguruza who converted the next set point to win the first set.
The second set continued the same story. Halep was ahead at 5-3 but again choked and failed to convert her chances. From there Muguruza won four games in a row to win the set and match- 7-6, 7-5.
Sofia Kenin upsets World No.1 Ash Barty at Australian Open 2020
This was the second semifinal of the 2020 Australian Open. Ash Barty was playing her home Grand Slam as the World No.1 and a Grand Slam champ. And Sofia Kenin was on a dream run looking to be a Grand Slam champ.
Kenin showed great courage and desire to stay with Ash Barty in the match. In the first set, break points were hard to get. The set went into a tiebreaker and here Barty had two set points. Trailing on a set point, Kenin took a risk and played an angled return which clipped the line. Kenin saved the two set points and later won the first set.
Barty was trying her best to come back in the match. Barty at 5-3 had two set points. And in pressure situations, Kenin played her best tennis. She saved the setpoints and from 5-3 she won the second set and match 7-6, 7-5.
Victoria Azarenka finally beats Serena Williams at US Open
Victoria Azarenka and Serena Williams played against each other at the US Open for the first time since 2013 final. Serena led the rivalry at US Open 3-0 but Azarenka finally got a victory over Serena Williams this year.
In the first set, Azarenka was all over the place and Serena was connecting the ball beautifully, the scoreline also reflected the dominance as Serena won the opening set 6-1.
But as the match progressed, rallies increased and Azarenka asserted her dominance. Serena was now making more errors and her returns decreased. From the other end, Azarenka limited her errors and improved her serve. Serena never broke Azarenka after the first set. And Azarenka comfortably won the second and third set to win the match and advance to the US Open 2020 final.
Tsvetana Pironkova upsets Garbine Muguruza at US Open 2020
A shocker at the 2020 US Open, Tsvetana Pironkova beat two-time Grand Slam champ Garbine Muguruza.
Pironkova was playing her first tournament in three years as she had taken a long maternity break. The Bulgarian surprised Muguruza with her serve. Muguruza couldn't touch Pironkova's serve. Pironkova was broken just once in the entire match.
The first set was a bit competitive, as both the players were cautious. But Muguruza slumped after leading 5-3 in the opening set. Pironkova won the first set 7-5. In the second set, Muguruza won just one point off Pironkova's serve and evidently, the Bulgarian strolled away with a 7-5, 6-3 victory.
Coco Gauff beats 9th seed Johanna Konta at French Open 2020
Gauff made her French Open debut this year and first up she beat 9th seed Johanna Konta. Both of them had a below-par service games but Coco Gauff's returning was top class.
The first set was edged by Gauff due to her big point pedigree and returns. Konta was hanging in there but failed to convert her chances. After a long tussle and six set points, Gauff took the opening set 6-3.
Gauff dropped off a bit in the second set. Konta broke Gauff but couldn't hold on to her service games. There were nine games played in the second set and only three of those were won by the server. In the end, Gauff edged Konta to win the match 6-3, 6-3.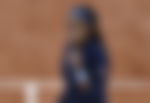 3rd seed Elina Svitolina upset by 131st ranked Nadia Podoroska at French Open 2020
Third seed Elina Svitolina was ousted from French Open 2020 at the quarterfinal stage by 131st ranked Nadia Podoroska. In a situation that was perfect for Svitolina to finally win a slam, Podoroska finished off all those hopes.
Nadia Podoroska after her semifinal run at French Open 2020, jumped to a career-best 48th in the WTA rankings.
Overall, in the match, Svitolina was awful with her serve. She won just six points on her serve and never won a service game in the first set. Podoroska was also shaky with her serve but was better than Svitolina. Podoroska won the first set 6-2.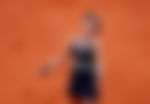 The second set was even bizarre as both the players had trouble holding their serve. But Svitolina again held just one game and that proved costly in the end Podoroska held her serve and eventually won the match- 6-2, 6-4.
ADVERTISEMENT
Article continues below this ad
Simona Halep thrashed by Iga Swiatek at French Open 2020.
Iga Swiatek on road to her 2020 French Open triumph thrashed number one seed Simona Halep in the fourth round. Halep was all over the place and couldn't handle Swiatek's winners.
Halep entered the French Open 2020 as the top-ranked WTA player and the top-seeded as well. But Swiatek with her perfect gameplan which involved a strong serve and the high attacking game broke down the Romanian who was seen to be unbeatable before the Grand Slam.
ADVERTISEMENT
Article continues below this ad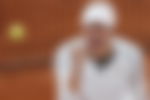 Swiatek didn't face a break point and in just 69 minutes strolled to a straight-sets victory over the former champ. Swiatek was better in every department and handed Halep one of her toughest defeats. In the end, the scorecard read 6-1, 6-2 and was one of the biggest upsets of the year.