Ashes 2019: Ben Stokes Denies LBW Says, "DRS Has Got That Completely Wrong"
Published 08/26/2019, 3:45 AM EDT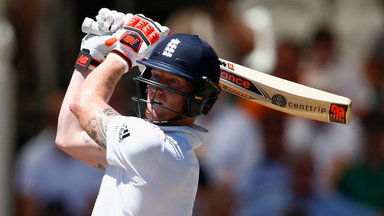 ---
---
England all-rounder Ben Stokes showed a pure classy batting and single-handedly took his side to the finish line in the third Ashes Test against their arch-rival Australia. He scored an undefeated inning of 135 to guide England to a nail-biting one-wicket victory. Although this is not the first time, he did it earlier also in the final of the ICC World Cup 2019.
ADVERTISEMENT
Article continues below this ad
He said he was "over the moon" after scoring the century. "In terms of where we were at in the Ashes series, I'm obviously over the moon that we've managed to stay in the series," Stokes added.
Australia had won the first Ashes Test by a massive 251 runs and the second one ended in a tie. A win in the third Test was important for England to equal that. However, it was tough for them as they were bowled out for 67 in the first innings. But they have bounced back so well.
ADVERTISEMENT
Article continues below this ad
"We knew if we lost this game then the Ashes were gone. To be sat here, especially after getting bowled out for 67, to still be in with a chance of getting the urn back is an amazing feeling. Walking off there at the end was a time to take everything in and realise what we've just done as a team, not as an individual. Bouncing back from getting bowled out for 67 to then chase down 359 was brilliant. We've got a few days off before the next Test starts, so when we turn up to Manchester, we've got to put everything behind us, what we've just managed to achieve, and start again because this will all be forgotten if we lose the next Test because then the Ashes are gone," he added.
However, the Test has its thrills intact on the fourth day as well. In the penultimate over, Jack Leach was nearly run out at the non-striker's end. Even Nathan Lyon also could have won an LBW decision, but the umpire Joel Wilson gave it as not out. However, the ball-tracker later showed the delivery was hitting the stumps. But Stokes didn't agree with that as he thought the ball was sliding down.
"I knew it wasn't out against Jack Leach. I have seen the DRS on my lbw shout, which obviously shows up with three reds, but DRS has got that completely wrong, as it flicked my front pad first and didn't spin. It shows how crucial it is to make sure you use your reviews. When you get to a situation like that, you still need one. If they had one they would have used it and ended up winning. I still cannot believe it was three reds. I thought, as soon as it hit me, that it was sliding down leg because there was no spin," shared Ben Stokes.
However, in that pressure situation, there a run-out situation created which Lyon completely missed. The result would be different today if he hadn't missed that.
"That was huge panic situation there because he was so far out. Obviously in that pressure situation, it can really affect what a human does. Nine times out of ten, Nathan Lyon would pick that ball up and take the stumps off. You have got to take into account the pressure he is under there to take the ball cleanly and take the stumps off," he further added.
ADVERTISEMENT
Article continues below this ad
"I think I knew the tactic that Nathan Lyon was trying to bowl to me at. He was trying to hit the rough and make it really hard for me to get underneath and try and hit them. It was spinning quite a lot, so I thought that was one of only two options I had in terms of trying to hit a boundary," he added.
However, it was only Stokes there in the middle who hit a couple of sixes and that too in a panic situation. He was smashing so comfortably that it didn't look like he was in pressure.
"Everybody was out on the boundary. I did not fancy trying to sweep against the spin because the top-edge was massively in play there. It is a shot I have played before and I am confident of playing it. It got us to a certain point in terms of being really positive and in position to attack. As soon as a I thought about it, I committed to it," Ben Stokes expressed.
ADVERTISEMENT
Article continues below this ad
Ben Stokes got great support from Jack Leach, the last wicket of England. He stood strong at the other end when Stokes was doing the unbelievable job of chasing 176 runs in 1 wicket in hand.
"He (Leach) might get a sponsorship deal out of that! With a number 11 (around and) needing 70 to win, I knew what I had to do in terms of the game situation. The only time I started to get a little bit nervous or panicking was when we got into single figures. But those will be the most important balls Leach has ever faced, or will ever face in his Test career, the best one he's ever got in his career. It takes two to tango in situations like that, but for a number 11 to come out under that kind of pressure and to deliver when he needed to deliver was fantastic for him to be able to do that. A lot of credit has to go to him as well for us being able to cross the line there at the end," Ben Stokes concluded.