Ravichandran Ashwin, an all-rounder?
Published 07/31/2016, 5:28 AM EDT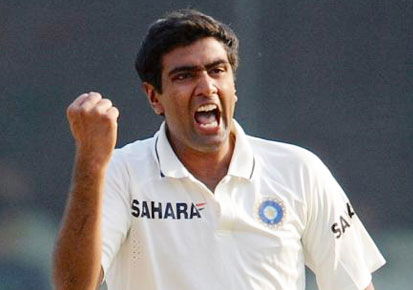 ---
---
After Virat Kohli's double ton, Ravichandran Ashwin's century against a weak and fragile West Indian bowling line-up has been the most talked about thing during the past week. While the top-order batsmen like Murali Vijay, Cheteshwar Pujara, and Ajinkya Rahane faltered against one of the most harmless bowling attacks in the world, it was Ashwin's innings that won him accolades. The prospect of Ashwin being a proper all-rounder is exciting news for Indian fans. Critics have already declared their support for Ashwin's claim to a spot in the middle order.
ADVERTISEMENT
Article continues below this ad
During this process, Ashwin equaled Sachin Tendulkar's record for the most number of centuries(3) scored against the West Indies. But is he that good in other challenging conditions, as he has proven himself to be in subcontinent conditions? His technique is surely better than other lower order batsmen around the world. However, will he be able to prove his mettle in seaming conditions like England, New Zealand, and Australia?
Till now Ashwin has scored 3 centuries and six half-centuries in a Test career which spans over 33 tests. His tally of runs stands at 1317 from 49 innings averaging 33.77, which is impressive for a number eight batsman. When we dig further and look at his home-and-away records, he averages 39.33 with the bat at home. Although the average takes a dip to 29 when he bats overseas. Two of his three test centuries are at home, with just this one in away tests against West Indies.
ADVERTISEMENT
Article continues below this ad
On the other hand, two of his six half-centuries came in Australian conditions, during India's last tour down-under. He scored 50 and 62 batting at No.8 when the Indian top-order failed to score during that series. Ashwin's first test century proved crucial as India went on to save the match from the jaws of defeat against the West Indies in 2011. His innings of 103 at No.8  was extra special as it came when the big names such as Gautam Gambhir, Sachin Tendulkar, and VVS Laxman failed to contribute. He scored his next hundred, another match-winner, at 'The Mecca of Indian Cricket' – Eden Gardens – in Kolkata.
So according to statistics, he is more than capable as a lower order batsman. The real question is how consistent he can be as a middle order batsman? It is too early to call him a pure all-rounder since he hasn't proved himself completely in overseas conditions yet. It will require a series of good performances in away matches before he can prove himself a genuine batsman.
He hasn't played an innings overseas that justifies his tag of being a pure batsman. One may argue that he played well during the Australia tour, but even bowlers like Bhuvneshwar Kumar have scored half centuries in England while playing under trying conditions. Even he has a good technique, so should he be promoted to the middle order? No is the answer. Even Stuart Broad scored a mammoth 169 against Pakistan at Lord's in 2010 and helped England clinch the match. Despite which he is still a lower order batsman and hasn't produced any noteworthy innings since then. The legendary Wasim Akram once scored an unbeaten 257 against Zimbabwe at Sheikhpura in 1996. Did he go on to bat in the middle order for Pakistan in the coming years? The answer is No.
Currently, it looks like Anil Kumble will test him further in this new batting position for the upcoming Test series. His  plan of playing one batsman short to make room for an extra bowler may backfire in away matches if Ashwin doesn't perform with the bat. India could do without another Irfan Pathan, whose career was jeopardized as a result of a forceful conversion into the pure all-rounder role by Greg Chappell. Not only did he lose his bowling prowess that he used to have, but also after a series of injuries, he lost pace , swing and the penetration that he used to offer when he was at the peak of his career.
Any bowler who can contribute with the bat down the order is a big asset for a team, and India should not throw that away by converting him into a middle order batsman. There are other players waiting in the dugout who can fill the boots of a pure batsman while Ashwin continues to contribute down the order. Too much concentration on batting will surely affect his bowling form. India can certainly do without 'Ashwin the batsman'. In fact, what India needs the most is 'Ashwin the Bowler'. However, it might be possible that Ravichandran Ashwin will not face the same fate as Irfan Pathan. He may emerge as a key batsman for the Indian team in the future like Steve Smith did for Australia.