Aston Martin to Scrap F1 Engine Plans?
Published 07/02/2018, 4:36 AM EDT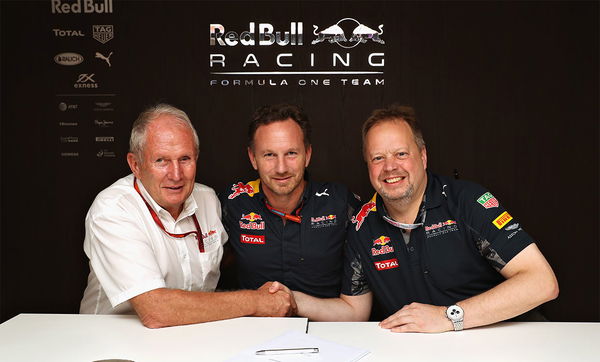 ---
---
Aston Martin, Red Bull's current sponsors, who had earlier confirmed that they would like to develop their own F1 engines and provide a further option to the team have now seemingly abandoned those plans.
ADVERTISEMENT
Article continues below this ad
They had roped in Ferrari's former engine chief, Luca Marmorini, to help in their engine development. But the supposed moving away from cost controlled formula is what has discouraged them.
Aston Martin CEO, Andy Palmer said, "Aston was interested on the basis that costs would be controlled and that the formula would be on part of an equation that would put control back on the hands of the driver."
ADVERTISEMENT
Article continues below this ad
F1 as a sport is undergoing a lot of changes currently under the ownership of Liberty Media. Among them is the change in regulations to engines from 2021 onwards. The announcement was made in October last year but the details have yet to be thrashed out.
"I don't see the costs coming down far enough with the regulations I've heard discussed and I do see that the opportunity to spend a fortune chasing down a tenth of a second of a lap will remain", Palmer stated.
ADVERTISEMENT
Article continues below this ad
"It's needlessly expensive and it undermines the sport, because whoever has the advantage of that tenth will win. I won't say we're definitely not going to do it until the final proposal. But if the door is left open to a spending war, then we won't be involved", he added.
But Palmer was positive of Aston Martin's association with F1 to be long-term. They will continue to remain the sponsors of Red Bull and said that that won't be affected by their switch to Honda engines for next season.
ADVERTISEMENT
Article continues below this ad
This new development is certainly not a good piece of news for manufacturers who were looking to enter F1. The excessive cost is proving to a dampener for a lot of teams.