"Delete the Track"- Fans Blast Drake for Sha'Carri Richardson Mention in New Album 'Certified Lover Boy'
Published 09/04/2021, 9:43 AM EDT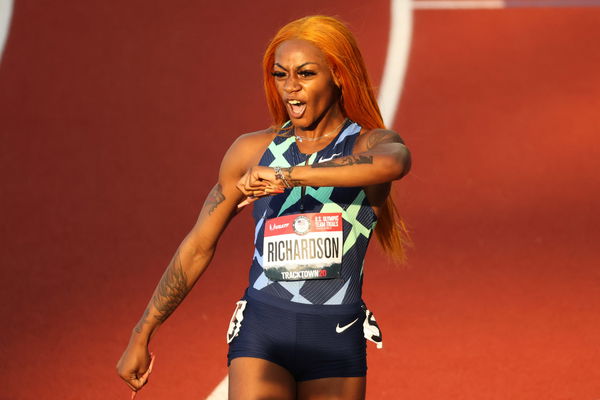 ---
---
American sprinting star Sha'Carri Richardson has been in the limelight since her ban from the Tokyo Olympics 2020. After her blazing performance in the Olympic trials, fans were disheartened at her absence in Tokyo. It is not just her speed on the field, but her off-track rivalry with the Jamaican trio that has brought her into the spotlight. Interestingly, even musicians have been highlighting her in their work.
ADVERTISEMENT
Article continues below this ad
Earlier, Kanye West had teamed up with Richardson to star her in his teaser of the new song, 'No Child Left Behind.' Now celebrity rapper Drake has mentioned Sha'Carri in his new album, ' Certified Lover Boy.' While Drake the album was due to be released in January, it was delayed because of his injury.
The lines of the song 'No friends in the industry' caught the attention of fans. Drake said referring to Sha'Carri in his song, "Smokes 'em on and off the track." These lines clearly mention the ban on Sha'Carri.
ADVERTISEMENT
Article continues below this ad
Drake fans upset with the new track mention of Sha'Carri
In his new album 'Certified Lover Boy', Drake has mentioned some sporting legends. The likes of Giannis Antetokounmpo and NBA legend LeBron James were give shout-outs. But Drake fans were shocked to hear the reference to the American sprinter Sha'Carri.
One fan even urged Drake to delete the track as it praises Sha'Carri for being fast on the track. The fan tweeted saying, "aubrey delete the shacarri track."
Sha'Carri made a comeback on the field at the Diamond League in Eugene. However, in her first comeback on the field, Richardson faced disappointment as she finished at the last position. Jamaican athlete Elaine Thompson won the race, clinching the world's second-fastest time in the world.
This nigga drake really threw a Sha'carri Richardson bar in there lol

— PFIZER PETEY (@Choppinjon3x) September 3, 2021
The fact that CLB was supposed to drop in January and drake made a sha'carri Richardson reference?? MEN ARE LAZY & need to learn to get to work

— jada victoria (@jadavictoriaa) September 3, 2021
Since her comeback in the field, Sha'Carri hasn't been able to shine. Drake dropped the album just one day before her Diamond League match. Sha'Carri had even announced on her Instagram that she's choosing 'violence' in response to all the back clashes she received.
But, in her Brussels match, she finished at the fourth position. Even though the Olympic champion Elaine Thompson was not part of the race.
We already know what she smoking & it aint got a damn to do with the tracks or sprinting…#JustSaying

— 🇯🇲🌴SonOfThe_Sun09🌴🇺🇸♐ (@SonOfThe_Sun09) September 4, 2021
i can forgive aubrey if he deletes the track by 5pm

— FireLady of the Manor (@firelordmaria) September 3, 2021
Shacarri can't even quote tweet her own drake verse tough scene rn

— Johnny Pierre (@johnnypierre611) September 3, 2021
Sha'Carri Richardson is ungrateful. If Drake gives you a shoutout on his album and you run on the day it drops you absolutely have to win.

— The President (@AshleyMakgatho) September 3, 2021
Sha'Carri Richardson fans come to her support
Most people have been criticizing the mention of Sha'Carri in the album after two disappointing performances. Albeit, her fans came in her support, celebrating the shout-out.
A fan tweeted, "IDC what y'all say about Sha'Carri Richardson. Drake name dropped her on one of his most anticipated albums. She's stamped. Go cry to ya momma." 
Some fans even called out Drake's album serving as a curse on Sha'Carri's performance. As a day after the album release, she lost in the 200m race at Brussels Diamond League.
Drake got a Sha'Carri Richardson bar.

Kanye got a commercial with Sha'Carri Richardson playing his music.

Chess not checkers.

— 𝐵𝑙𝑎𝑐𝑘 𝐵𝑎𝑏𝑒 𝑅𝑢𝑡ℎ (@NotoriousVIC007) September 3, 2021
The new Drake single:
"No Friends in the Industry" is FIRE🔥🔥🔥🔥
Drake wants ALL THE SMOKE!
His line about Sha Carri Richardson😂 Omg!
Can't wait to workout to this:):):)
UUUUUURAH!!!:):):)#fitness #HipHopMusic #Drake @Drake

— Errick McAdams, CPT (@ErrickPT) September 3, 2021
ADVERTISEMENT
Article continues below this ad
ADVERTISEMENT
Article continues below this ad
With the Brussels event, the Diamond League is over. The 21-year-old could not prove herself on the track after the ban, but she has been garnering attention off the field. Notably, within a week, Sha'Carri was praised by the Olympic legend Usain Bolt and now the shout-out in Drake's song.