Atletico and Real's progress since 2014
Published 05/25/2016, 3:42 PM EDT
By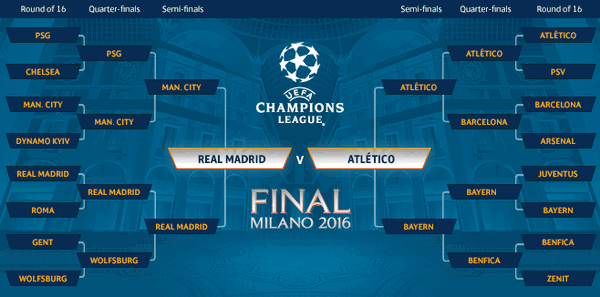 For the second time in the last three years, Real Madrid will take on city rivals Atletico Madrid in the UEFA Champions League final. Atletico had nearly won the duel in 2014 but collapsed towards the end, allowing Real Madrid to claim La Decima. Both teams have undergone changes in the last couple of years, and it's time to see what they have done!
ADVERTISEMENT
Article continues below this ad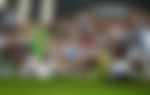 Since they were defeated in Lisbon two years ago, Atletico have had some major changes. Diego Costa, Felipe Luis, Thibaut Courtois and David Villa were some of the high profile names who left. To replace them, Mario Manzdukic, Jan Oblak, Antoine Griezmann and Fernando Torres were brought in. In the 2015-16 season, Manzdukic, Arda Turan, Raul Garcia and Jackson Martinez (who arrived in the same season) departed.  Felipe Luis, Yannick Carrasco, Stefan Savic were brought in as well. Oliver Torres and Lucas Hernandez are young players who now play a more prominent role in the club.
ADVERTISEMENT
Article continues below this ad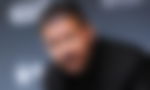 Critically, the man responsible for the resurgence, Diego Simeone, has stayed. He has been linked to various managerial posts but has been happy to stay at the Calderon. As a player, he was resourceful, versatile and tough, and that reflected in his approach to his managerial career at Atletico. Knowing beforehand that he couldn't possibly match Barcelona and Real Madrid in the acquisition of talented players, he promoted hard work and teamwork within the squad. He has given chances to Atletico youth academy products like Oliver Torres, Koke and Saul. The club has also made smart transfers such as Griezmann and Jan Oblak, with the former being their most expensive player at €30 million.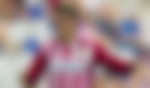 Their biggest strength on the field is their defence. Throughout the 2014-15 and 2015-16 seasons, the team has attained a total of 62 clean sheets. In the 2015-16 La Liga campaign, Atletico conceded 18 goals in 38 games. Their defensive prowess keeps them in contention for the domestic trophies and they were even in the La Liga title race till match week 37. Even European giants have struggled against Atletico, including Real Madrid, Barcelona and Bayern Munich in the 2015/16 season alone.
Atletico, after more than a decade of struggle against Real Madrid can finally hold their own. Since the 2014 final, Atletico have won 3 of the 6 encounters against Real Madrid, losing just once. This mental confidence will be with them when they take to the pitch at the San Siro.
Real Madrid too, have made major changes to their squad. Following their 2014 Champions League title, Xabi Alonso, Angel di Maria, Alvaro Morata were some of the players to depart. The club bought James Rodriguez, Toni Kroos, Keylor Navas and Javier Hernandez (loan) that season. In 2015-16, Sami Khedira, club captain Iker Casillas and Asier Illarramendi departed, to be replaced by Mateo Kovačić, Danilo and Kiko Casilla .
Real have also brought in a few managerial changes since they won La Decima. Carlo Ancoletti was sacked at the end of the 2014-15 season. His replacement, Rafael Benitez was sacked midway through the 2015-16 season and was replaced by Real Castilla coach Zidane. Each had different approaches to the game. Ancoletti allowed the stars at Real Madrid, the freedom to focus on their individual aspects of the game. Players like Marcelo, Toni Kroos and Cristiano Ronaldo thrived in such a system. Failure to replicate that success cost him his job.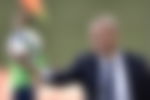 Benitez emphasized on zonal marking and defensive contributions by all members. This did not sit well with the fans and some of the senior players. He had a shaky relationship with the fans and players. His inability to get favourable results against rivals led to his sacking. His replacement was Carlo Ancoletti's assistant and Real Castilla coach Zidane. After a shaky start to his managerial career, Zidane adapted well to the hot seat, and nearly won a 33 La Liga crown for Los Blancos. After nearly getting knocked out at the hands of Wolfsburg, he successfully guided the team to the finals.
ADVERTISEMENT
Article continues below this ad
Real Madrid players have been very offense-oriented. Their main threat is the vaunted trio of Bale-Benzema and Cristiano. Over the last couple of seasons (2015-16 included) they have scored nearly 100 goals a season between them. In James Rodriguez, Isco, Modric and Kroos, they have offense-oriented midfielders as well. Marcelo, Danilo and Sergio Ramos are capable defenders who can lend a hand in the Real Madrid attacks.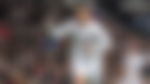 Real can go with the positive mind-set, that they beat Atletico Madrid in the 2014-15 Champions League Quarterfinals. They also revived their La Liga hopes this season and took the fight till the final match week.
ADVERTISEMENT
Article continues below this ad
It will be a spectacular match, as each team's core strength will be a perfect counter to each other. Since 2014, they built on the strengths, and it's going to be another feisty Madrid Derby final.
Can Atletico finally win their maiden Champions League title? Or is it going to be an unprecedented 11 title victory for Real? We'll know soon enough.