Rafael Nadal Reveals His Uncle Toni Nadal was the Reason Why He Chose Tennis Over Soccer
Published 12/28/2020, 9:30 AM EST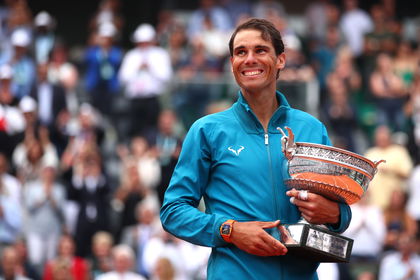 ---
---
Twenty-time Grand Slam champion Rafael Nadal has opened up on why he chose to make a career out of tennis.
ADVERTISEMENT
Article continues below this ad
Appearing on Spanish television for an interview, Nadal revealed it was his uncle who got him into tennis when he was only three years old.
Rafael Nadal says he played tennis and soccer till the age of 13
ADVERTISEMENT
Article continues below this ad
The Spaniard said he used to play soccer as a child, but as Toni Nadal, his uncle, took him under his wing at his coaching club in Manacor, he found an interest in tennis. Subsequently, he realized that it was his true calling.
When asked what drew him to tennis as a career choice, Nadal said, "I also played soccer. Tennis, because my uncle was a coach. I started when I was three, once a week or something like that." (Google Translate)
Nadal said that till the age of 13, he kept playing tennis and soccer with equal amounts of interest. However, thereafter he said he had to choose between tennis and soccer as he also had to focus on his studies.
"I continued playing more and until I was 13 years old, also soccer. Then no longer, because I had to study. Like many people, there are circumstances that help you take a path, and this was mine," the Spaniard said.
During a recent question-and-answer session with some children, who are supported by his foundation, Nadal said he wouldn't have been a tennis superstar that he is today without his uncle.
Toni Nadal, the second most successful coach in tennis history
A good student of the game, Nadal imbibed the tennis lessons that he received from his uncle through the course of their professional relationship that lasted more than twenty years.
It was in 2017 that the Spaniard finally announced that he wouldn't continue his professional tie-up with his uncle beyond that year.
ADVERTISEMENT
Article continues below this ad
Nadal won as many as 16 of his 20 Grand Slam titles on his uncle's watch. This made Toni Nadal the second most successful coach in the history of tennis.
The record, in this regard, is held by Marian Vajda, who coached Novak Djokovic to all his 17 Grand Slam titles and continues in the role to this day.
ADVERTISEMENT
Article continues below this ad