All You Need to Know About Russian Star Karen Khachanov's Wife's Amusing Sister Story
Published 01/27/2023, 12:01 AM EST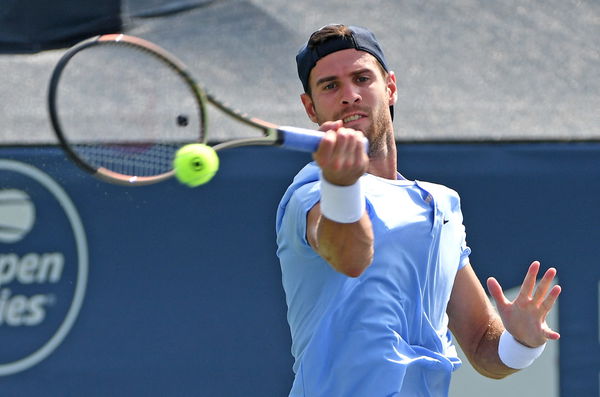 Russian tennis player Karen Khachanov is in the headlines owing to his performance in the Australian Open. Khachanov is now in the semi-finals where he faces his Greek opponent, Stefanos Tsitsipas. Although Khachanov has been married for a long time, very little is known about his wife-Veronika.
Khachanov has attracted the interest of many tennis fans worldwide after his performance in the tournament and the recent controversies. However, although his fans have some idea about his married life, many are unaware of his wife's twin sister. Khachanov is very private about his married life, though he is extremely candid in terms of his relationship with his son, David.
ADVERTISEMENT
Article continues below this ad
Karen Khachanov is married to Veronika Shkliaeva
Karen Khachanov and Veronika Shkliaeva have been dating since 2011. They are childhood friends who met when Khachanov was eight. The pair tied the knot in a private wedding ceremony in 2016. 
 

View this post on Instagram

 
According to Khachanov, he was unable to win Veronika over all at once. He fell into Veronika's bags at an airport and she gave him an earful, calling him an idiot.
Veronika and Khachanov have a very happy and private relationship, away from the glare of social media. Khachanov has only a few photos of his wife on Instagram. The duo also has a four-year-old son named David.
Ilya Ivashka is also married to Veronika Shkliaeva…
ADVERTISEMENT
Article continues below this ad
The Belarusian tennis star, Ilya Ivashka, is married to the twin sister of Khachanov's wife. What is shocking is that both sisters share the same name- Veronika Shkliaeva. And both Veronika's look the same! 
Ilya Ivashka's wife, Veronika Shkliaeva, is also very aloof on social media. Ivashka, like Khachanov, hardly ever posts pictures of his wife on Instagram.
However, Ilya does acknowledge Veronika's support in his career on court in a post-match interview. In August 2021, Ivashka won the singles title of Winston Salem. After his win he said, "I want to thank my significant other, she's generally there, she's with me constantly, I love you, and this is for you."
ADVERTISEMENT
Article continues below this ad
His confession both awed the audience and intrigues them at the same time. Veronika, his wife, was sitting in the audience box, visibly embarrassed and red in the face after all the compliments.
WATCH THIS STORY: The Greatest Comebacks in Tennis