Are Daniil Medvedev and Stefanos Tsitsipas Friends?
Published 08/20/2021, 3:30 PM EDT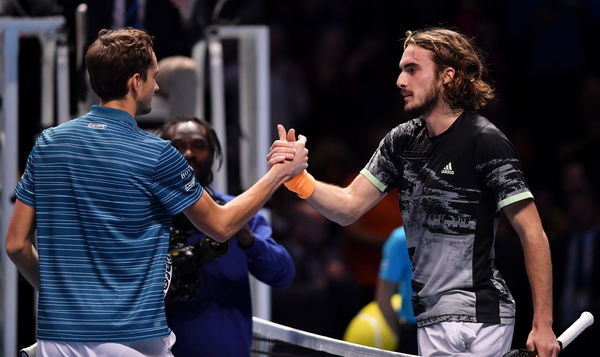 ---
---
If there are two youngsters who have really impressed fans in the last two years, they are Daniil Medvedev and Stefanos Tsitsipas. Currently at the World No.2 and 3 spots respectively, both have won the ATP Finals tournament but are yet to accomplish a Grand Slam title. However, are both of them friends on and off the court?
ADVERTISEMENT
Article continues below this ad
Stefanos Tsitsipas v Daniil Medvedev: Miami Open 2018
The battle between Stefanos Tsitsipas and Daniil Medvedev took a the form of an intense rivalry at the Miami Open 2018. The two exchanged foul words there at the end of the match.
ADVERTISEMENT
Article continues below this ad
"Bullsh*t Russian," muttered Tsitsipas after shaking hands with Medvedev. "Man you better shut your f*ck up," responded Medvedev instantly.
Even though Medvedev won the match, he was not happy with Tsitsipas's reaction. The situation got worse and reached to such an extent that the chair umpire had to come down to calm both the players.
Relationship between Daniil Medvedev and Stefanos Tsitsipas
Since that incident, the two have tried to restore better relations with each other. However, they are still very far from being called 'friends' on the court.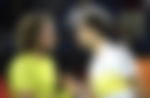 "It's probably the only time in my life that I got pissed off during a match with my opponent. But let it all be in the past. Let's just forget it and move on," said Tsitsipas in one of his recent Instagram live.
Even though Tsitsipas is trying to forget what happened, he clearly reflected that the Miami Ope incident was the only incident when he got pissed off because of a player. In the past, the World No.3 player also called Medvedev a 'boring player'.
Reacting to this statement, Medvedev said that he is not at all friends with Tsitsipas. However, according to him, they are not enemies as well. He also said that he doesn't take Tsitsipas seriously.
"Every player can tell some digs about another. But I'm not taking Tsitsipas seriously anymore… "He said my game is boring? For real? Well, I'm not going to argue with him. Everybody has their own style. If someone thinks it's boring – it's okay, not a big deal. We are definitely not friends, nor are we enemies. We are colleagues, that's it," mentioned Medvedev in response.
Medvedev v Tsitsipas: Head-to-Head
As of now, it is Medvedev who lead the head-to-head battle 6-2. The Russian also leads the stats 2-1 when it comes to playing at the Grand Slams.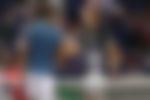 However, it was Tsitsipas who won their last encounter as he thrashed Medvedev in straight sets in the quarters of the French Open 2021.
It is without a doubt that both Daniil Medvedev and Stefanos Tsitsipas are superb athletes. However, after all their recent face-offs, it will be wrong to say that they are friends.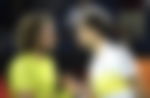 ADVERTISEMENT
Article continues below this ad
ADVERTISEMENT
Article continues below this ad