"Change of Thrones": Stefanos Tsitsipas On Roger Federer, Rafael Nadal and Novak Djokovic's Absence Ahead of US Open 2021
Published 08/12/2021, 7:00 AM EDT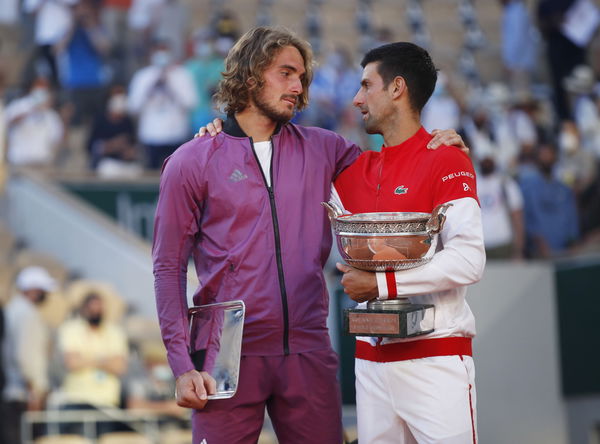 ---
---
Straight from the streets of Canada, tennis action continues to entertain fans globally. With one too many stars gearing up for battle, it guarantees power-packed encounters. However, even as the most fierce outings unfold, fans can't help but reminisce about the absence of the 'big 3′. Speaking of the same, Stefanos Tsitsipas highlights all things good and bad about the legends' missed appearance.
ADVERTISEMENT
Article continues below this ad
Roger Federer, Rafael Nadal, and Novak Djokovic, the epic trio withdrew from the Toronto-based tournament, earlier this month. Naturally, fans were quick to express their disappointment on not seeing their favorites take to the Canadian courts.
ADVERTISEMENT
Article continues below this ad
Nevertheless, as a new generation of young athletes begins to dominate the circuit, fans are in for twice as much entertainment, while recovering from the loss of the greats. Leading the charge from the front, Greek international, Stefanos Tsitsipas spoke out on what it's like, not seeing the top dogs don the court and how it affects the new generation.
Watch this story: How Roger Federer, Rafael Nadal, Novak Djokovic, Serena Williams, and Others Travel
"There is room for new stars"- Stefanos Tsitsipas
Arguably, the 'big 3' have dominated world tennis and every conversation surrounding it. Battling it out for the past 16 years now, they've not just changed the game but also inspired many while at it. Hence, speaking of their absence now, he said, "It's interesting to have this kind of variation and change of thrones, let's call it. It's interesting for our game."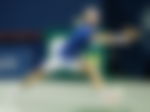 Notably, he believes their absence is also a chance for the younger generation of stars to take center stage. He said, "I think there is room for new stars. You know, it's been a lot about them in recent years, and I think now it's showing that, you know, things are changing. Things are kind of– we see kind of a different generation of players stepping up and showing they are capable of."
However, he credited them for their prestigious legacy, and rightly so, added, "Obviously, let's accept it, because it's a fact, it's true, they bring a lot of fans to the courts, and they are also the reason why people come and watch these big events. Also, they are a big part of, you know, tennis being where it is now."
The change of thrones
22-year-old Stefanos majorly highlights the hard work of the young stars and what they bring to the table. Especially, he notes how they've grown up looking at the 'G.O.A.T's and now attempt to replicate their legacy. He said, "We, ourselves, we have generated our own team of people and fans that support us, give us love, and are there for us in each single match following us. We want to do as good as they have done so far."
ADVERTISEMENT
Article continues below this ad
He further added, "We obviously have a lot of respect [for them]. We grew up watching them, and I think we are thrilled to be competing against them and against them now in this kind of period of time."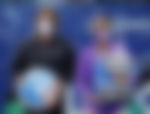 Stefanos' admiration for the legends of the game is certainly noteworthy. More importantly, his humility is not to be overlooked. Not just playing against them, but the Greek international has also surpassed one of the greats in the ATP ranking.
ADVERTISEMENT
Article continues below this ad
As Nadal lost his second-round match at the Citi Open 2021, he dropped down in the official rankings, making way for Stefanos Tsitsipas for the first time in the top 3. The surreal moment surely left the greek with goosebumps, but fans now wait to see if he lives up to his astonishing rank or falls victim to its pressure.