Daniil Medvedev Slapped With a Hefty Fine in Consecutive Years at US Open
Published 09/13/2020, 5:09 AM EDT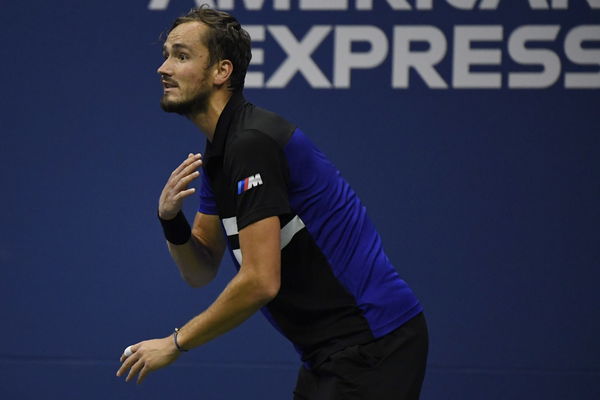 ---
---
Daniil Medvedev could not replicate last year's run as he failed to reach the US Open final, losing to Dominic Thiem in the semis. However, he had a flashback moment from the tournament last year, after he was fined $3,000 recently for his outburst at the chair umpire and tournament supervisor.
ADVERTISEMENT
Article continues below this ad
Medvedev was fined $9,000 last year for another hot-headed incident. Co-incidentally, Damien Dumusois was the chair umpire during both those incidents.
Medvedev, after what happened in the first set against Thiem, has been fined $3,000.

— Ravi Ubha (@raviubha) September 13, 2020
ADVERTISEMENT
Article continues below this ad
Daniil Medvedev fined for rant against chair umpire and supervisor
In the latest incident, the Russian was furious after the linesperson and the umpire failed to call a fault on Medvedev's serve. Medvedev was caught off guard by Thiem's return and put a half volley into the net, thinking the officials made the call.
As he had offered a shot, the chair umpire did not allow him to challenge. That's when Medvedev lost his cool.
Medvedev not only lost the point but also lost the game and was broken in the first set because of the incident. He then crossed over to the other side of the net to show the mark and was handed a code violation for that.
Medvedev then went on a sarcastic rant against the chair umpire and did the same after walking towards the supervisor.
"Talking about my code violation today, I mean, what did I do? Did I hurt someone? Did I say something rude? I didn't do anything. I get a code. I'm like, Supervisor, do something. Why are you sitting here? I still don't know the answer to this question," Medvedev said in the aftermath of the incident.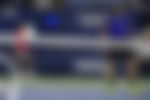 He lost the match to Thiem 6-2, 7-6(7), 7-6(5).
ADVERTISEMENT
Article continues below this ad
Similar incident at US Open 2019
Last year, Medvedev received a code violation for unsportsmanlike conduct. He snatched a towel in frustration from a ball kid. He later put up his middle finger after being booed by the crowd.
The gesture went unseen by chair umpire Dumusois initially, but it was later displayed on the big screen. The incident occurred during a third-round match against Feliciano Lopez.
ADVERTISEMENT
Article continues below this ad
Later, Medvedev was fined $9,000 for both the gestures during his third-round match. He had a troubled relationship with the crowd last year, but later apologized and tried his best to win back the fans.