Denis Shapovalov Takes a Huge Dig at ATP after Karen Khachanov Lost His Cool at 2020 European Open
Published 10/23/2020, 4:39 PM EDT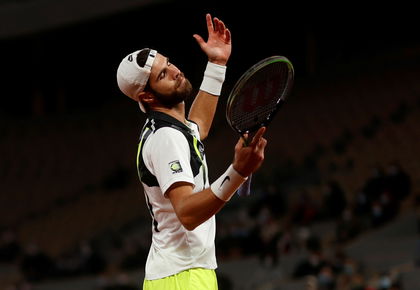 ---
---
Karen Khachanov lost his cool with the chair umpire in his 2020 European Open quarter-final match. Khachanov had a moment in the match against Dan Evans when the umpire made a very controversial call against the Russian. People are erupting in protest, and Denis Shapovalov has taken a direct dig at ATP.
ADVERTISEMENT
Article continues below this ad
Khachanov went up against Great Britain's Dan Evans in the quarter-final at Antwerp and took hold of the first set 6-3. Evans fought back the following set, but Khachanov held tight in hopes of extending his advantage. 
Eventually, the Brit forced a tie-breaker, and when Khachanov looked to go 8-7 up with a forehand, the chair umpire called the ball out, when it seemed like it pitched in. Then a whole lot of agony followed from Khachanov's end, for losing a point due to a wrong call. 
ADVERTISEMENT
Article continues below this ad
Denis Shapovalov who is not playing at the European Open, looked at the situation and took a dig at ATP. Hawkeye wasn't used to track the ball as the tournament does not make use of the technology. Later, images surfaced online which showed that the ball had pitched in. 
Shapovalov put forth his views on the issue and said: "Clearly we don't need Hawkeye on hard courts either anymore. Well done once again @atptour."
This comes in light of the fact that Shapovalov also protested against the French Tennis Federation for avoiding the use of Hawkeye at Roland Garros. The Canadian burst out against the organizers for the lack of technology and then accused them of "trash scheduling." 
Karen Khachanov went really wild at the chair umpire after his wrong calls
Before the whole drama happened, there was a similar moment in the first set to which Khachanov could not agree any less with the umpire. During one of his service games, Karen Khachanov delivered two incredible forehands to which Evans had very little to offer. 
However, the second shot was called out, which infuriated the 24-year-old. Khachanov then exchanged heated words with the chair umpire after losing the point.
"Come on man seriously. Why do you correct the call when you have the line umpire? I don't understand," he shouted.  The chair umpire tried to state his case, but Khachanov was having none of it. 
ADVERTISEMENT
Article continues below this ad
Following the argument, the umpire made yet another controversial call in the second set tie-break. As a viewer, the ball looked like it pitched in at first instance. It was indeed during a crucial moment when the umpire called it out and Khachanov could no longer hold it in. 
ADVERTISEMENT
Article continues below this ad
The 24-year-old eventually lost the tie-break, lost the second set, and then lost the match. He was deeply affected by the calls made during his match, and Dan Evans perfectly capitalized and soared to victory.