"Doesn't Know Where I Am or Where Rafael Is": Roger Federer Reacts to Novak Djokovic's Comment at Wimbledon Championships 2021
Published 10/06/2021, 2:54 PM EDT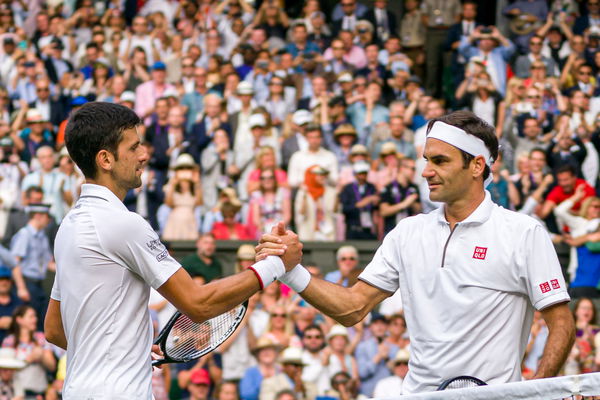 ---
---
When Pete Sampras defeated Andre Agassi in four sets in the 2002 US Open finals to claim his 14th major title, many assumed that no one would ever be able to win as majors as the American did. The next year, Roger Federer began his slam winning streak by winning his first-ever major title at Wimbledon.
ADVERTISEMENT
Article continues below this ad
The Swiss Maestro surpassed Pete Sampras' major tally at the Wimbledon Championships in 2009 by defeating Andy Roddick in an epic five-setter.
ADVERTISEMENT
Article continues below this ad
Wimbledon 2021 witnessed Novak Djokovic tying the majors record with Roger Federer and Rafael Nadal
Since 2009, Federer only managed to add five more majors to his name owing to Novak Djokovic's evolution to become one of the all-time greats in men's tennis. Post 2010, Federer lost crucial matches in slams to the Serb.
However, the Swiss star was the first to reach 20 majors when he won a five-setter against Marin Cilic in 2018 Australian Open. Nadal managed to achieve the same feat a couple of years later when he outplayed Djokovic at Roland Garros last year.
In an incredible run that saw him win three majors on the trot, Djokovic also joined Federer and Nadal with 20 titles each. The Serb could have went on to claim the 21st major at the US Open, but Daniil Medvedev had different plans.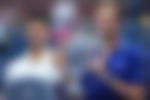 Watch this story: A Look Inside the Millionaire Lifestyle of Novak Djokovic
"He means well, obviously" – Swiss Maestro on Djokovic's comments after Wimbledon 2021
Post his Wimbledon victory, the World No.1 said that none of the three would stop winning slams when asked about him tying the record with Nadal and Federer.
Talking about the comment made by the Serb, Federer mentioned in a recent interview that Djokovic's 2021 season has been phenomenal and looks forward to see how their careers continue.
"Well, look, he obviously was speaking for himself. He's on adrenaline when he's saying that and he doesn't know where I am or where Rafael is. But he means well, obviously. I think his year again has been phenomenal", told the Swiss Maestro.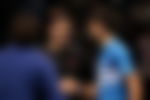 Federer reflects on surpassing Pete Sampras' record at 2009 Wimbledon
"Wow. When I was coming up the record was 12 and "Pistol" got to it, you know, and went up to 14. Then I passed him in 2009, making it 15. That was clearly a huge moment for me, tying with him in Paris and then breaking it when at Wimbledon". 
ADVERTISEMENT
Article continues below this ad
Looking at the ambiguity surrounding Federer's return to the ATP tour next year, it's unfair to expect the Swiss star to be on the same level as Djokovic right from the word 'go'. Knowing this, Federer remains grateful for his career and the tough path to recover post knee surgery last year.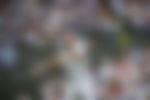 "Losing in the quarters of Wimbledon normally is not good enough, but, for me, you know, the road has been hard and long and so my perspective is a little bit different", concluded the Swiss.
ADVERTISEMENT
Article continues below this ad
From these words, it's evident that Roger Federer will be playing tennis for different reasons in his 2022 comeback. Even though winning a slam will mean a lot for the Swiss Maestro and his team, enjoying the game and striving to be in big matches will be his initial mindset next year.