Dominic Thiem's Coach Reflects Upon Ultimate 'G.O.A.T' Debate Between Roger Federer, Rafael Nadal and Novak Djokovic
Published 07/27/2021, 3:02 AM EDT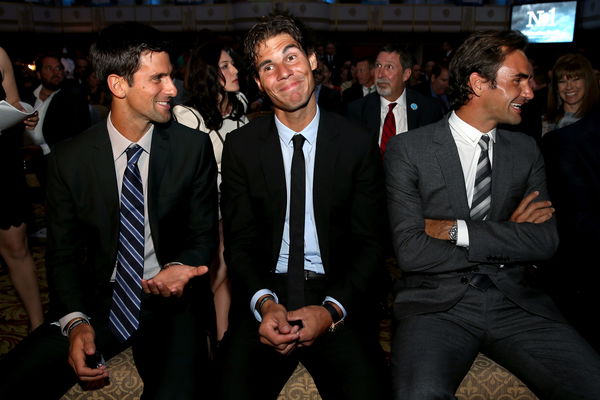 ---
---
The 2020 Tokyo Olympics garnered world attention with a grand display on its opening day. It takes center stage as some of the best athletes go head to head, in a quest for gold. However, the tennis world saw some of their favorites rest out the tournament; notably, 2/3 of the 'big 3', Roger Federer and Rafael Nadal. Not just fans, but fellow 'G.O.A.T', Novak Djokovic too, surely misses their presence at the iconic event.
ADVERTISEMENT
Article continues below this ad
For more than a decade now, the 'Big 3' have dominated every tennis conversation, both on and off the court. However, as generational talents make their way up the ranks, their once glorious career is now often remembered for being victims to big upsets and surprise exits. Regardless, their legacy continues to reign dominance figuratively, as fans indulge in the ever exceeding 'G.O.A.T' debate. Speaking of the same, two-time Olympic champion and current coach to World No. 6, Dominic Thiem, Chile's Nicolas Massu puts the three greats on the same pedestal. He said, "They make the level of tennis better every year, we are living a spectacular generation, they are the three greatest in history." 
ADVERTISEMENT
Article continues below this ad
"I put them on the same level"- Nicolas Massu
The Chilean, a former World No. 9 himself, knows what it is like to play at a level as high as the 'Big 3'. Notably, his two gold medals at the 2004 Athens Olympics made him the great he is. Speaking of the greatness of his fellow legends, he said, "Everyone has their own history, all three have achieved incredible things and they also have different records. I put them on the same level, to talk about all three of them is to talk about an example of everything, each with its own personality."
"That they continue to win at this age helps us to understand what the path is, to understand that we still have to continue working and training daily to reach them," he added.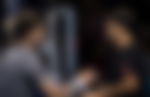 Nicolas is currently a coach to one of the most exciting players on the circuit, Dominic Thiem. At 27-years-old, the Austrian's highest rank attained was World No. 3. Speaking of his prodigy's participation alongside the 'big 3', Nicolas said, "I've always said it, I prefer that they're always in the tournaments that Dominic wins, because that means he's at a great level."
He further added, "When he's fine I know he can beat anyone, he's still young but he already has a lot of experience, I'm confident the next 5-6 years can be the best. The hard times are where you become strong."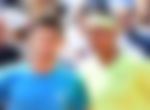 Is Novak Djokovic the ultimate 'G.O.A.T'?
ADVERTISEMENT
Article continues below this ad
Both Roger Federer and Rafael Nadal withdrew from the 2020 Tokyo Olympics. However, playing in the form of his life, Novak Djokovic is representing Serbia at the Summer Games. It wasn't long ago that Novak won the 2021 Wimbledon Championship; that was his 20th Grand Slam title and third championship of the season. From Melbourne to Paris, he has reigned sheer dominance.
Watch this story: Rafael Nadal, Novak Djokovic, Roger Federer, Serena Williams, And Others Emotional Moments at Olympic Games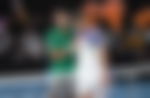 Currently, at the 2020 Tokyo Olympics, Novak Djokovic is on his quest for gold. Soon, he will be back on the track to the US Open. While his counterparts take unprecedented breaks from tennis, Novak seems unstoppable. On the verge of making history, fans await to see if Novak can finally end the 'G.O.A.T' debate and achieve the impossible, Calendar-Golden Slam.
ADVERTISEMENT
Article continues below this ad