"Don't Give an Extra Slam" – Rafael Nadal on Novak Djokovic Surpassing Roger Federer and His Records
Published 10/12/2020, 5:34 AM EDT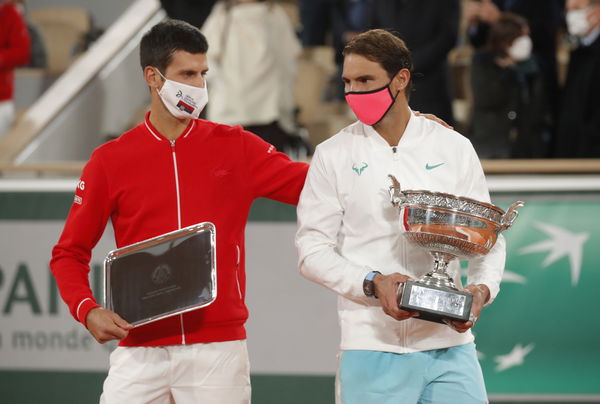 A happy Rafael Nadal was all smiles and laughter after winning yet another French Open title. Both Nadal and Roger Federer downplayed the fact that they are equal in terms of Grand Slams won, for the first time in the 16 years of their epic rivalry.
ADVERTISEMENT
Article continues below this ad
Nadal corrected an interviewer on Sunday who mistakenly gave Novak Djokovic an extra Grand Slam title. The interviewer asked Nadal about the Grand Slam race with Djokovic, who is three titles behind Rafa and Federer. He asked Nadal about the significance of tying Federer for 20 Grand Slams, with Djokovic on 18. In a light-hearted moment, Nadal was quick to correct the interviewer and point out that Djokovic has 17 Grand Slams.
"Please don't give an extra slam to Novak that he's gonna beat us," Nadal said with a chuckle. The interviewer corrected himself, admitting he had made a mistake. Nadal then teased him further, asking him if he had an idea that Djokovic would beat him in the French Open 2020 final to get to 18 slams.
ADVERTISEMENT
Article continues below this ad
Interviewer: "now the race is 20, 20, 18"
Rafa: "don't give Novak an extra one that he's gonna beat us" 😂

Smile and laughter 🥰 pic.twitter.com/4fuSkOzUeF

— monse 💕 Buenos días 😁 20 | 13 (@coachdal) October 11, 2020
Rafael Nadal and Roger Federer share a moment of respect
Along with their rivalry, Nadal and Federer are known for their camaraderie and friendship. Very classily, Nadal chose not to put the limelight on tying with Federer's record, when asked about it on the court.
Federer posted a message for Nadal soon after the Spaniard's win. He acknowledged Nadal's achievement and said he was happy to share the record with his greatest rival.
Later, in his press conference, Nadal confessed that the records definitely meant a lot to him. At the same time, it wasn't something he wanted to think about all the time.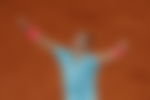 Nadal's thoughts on the Grand Slam race
ADVERTISEMENT
Article continues below this ad
"I never hide that for me, I would love to finish my career as the player with more Grand Slams. No doubt about that. Of course, I care about the records. It means a lot to me to share this number [20] with Roger," Nadal said. "But you know I don't want to think about them all the time. Novak has this one, Roger has the other one. You can't be always unhappy because your neighbor has a bigger house than you or a better phone."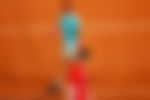 Looking at how strong the 'Big 3' are still going, they look all set to add to their already incredible Grand Slam tallies. Federer will most likely resume his bid to regain his lead on the record at the Australian Open 2021.
ADVERTISEMENT
Article continues below this ad