"Going to Have to Earn It": Daniil Medvedev on Novak Djokovic Catching 400 Weeks as World No.1
Published 03/13/2021, 5:00 AM EST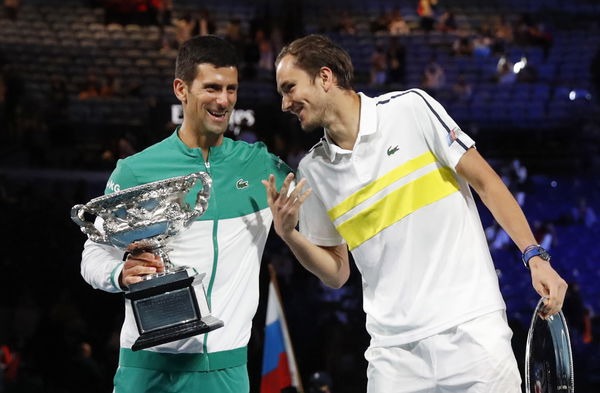 ---
---
Russian tennis star Daniil Medvedev has shared his thoughts on Novak Djokovic reaching yet another career landmark – crossing 311 consecutive weeks as the World Number 1.
ADVERTISEMENT
Article continues below this ad
The Serb passed the previous mark of 310 weeks set by a familiar foe, Roger Federer, recently to be anointed as the new holder of this unique milestone.
Novak Djokovic recently crossed Roger Federer's landmark of being No. 1 for 310 straight weeks
ADVERTISEMENT
Article continues below this ad
With the Federer record broken, the conversation has veered to whether Djokovic, who triumphed over grave physical odds to clinch an unprecedented ninth Australian Open title this year, can set a virtually unassailable mark of 400 straight weeks as World Number 1.
And, the Russian World Number 2 reckons the feat is certainly not beyond the 33-year-old Djokovic, but his rivals will not make it easy for him.
Medvedev, who was on an unbeaten streak from last year, extended his run till the final of this year's Australian Open before receiving a harsh tennis lesson from the Serb in the championship showdown.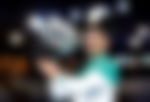 Calling it an "unbelievable achievement", the Russian said that while top players vie for Grand Slam glory, there's also a "small competition" to stay top of the pile in the rankings.
On scaling Mount 400, the reigning ATP Finals champion said, "The way he's playing, he's definitely capable of catching 400 weeks."
Daniil Medvedev says the records that Novak Djokovic and his 'Big Three' peers have set may not be broken in 100 years
The Russian added that though he failed to stand up to Djokovic in the final at Melbourne Park, that's how the game goes at times and it's the nature of competition that suggests that his rivals would do everything possible to make sure he doesn't get to the new landmark.
"Nobody's going to give him an easy task, he's going to have to earn it," Medvedev said.
However, he marveled at the feats of the 'Big Three' – combined nickname for Federer, Rafael Nadal, and Djokovic – saying that the records they have set may not be broken "in 100 years".
ADVERTISEMENT
Article continues below this ad
He said that it is through the weight of their performances that they've reinforced the belief that they are far and above their peers in the contemporary men's game.
"I don't think you can say that other players were not good enough in this era, it's just they're unbelievable and there's nothing for others to be ashamed of," the Russian said.
ADVERTISEMENT
Article continues below this ad
Djokovic braved an abdominal muscle tear midway into his Australian Open campaign to equal Martina Navratilova's record of winning the maximum number of titles in a single Grand Slam event.