'Hamstring My A**' – 'Bitter Af' Alex de Minaur Fuels Fresh Debate Among Tennis Fans Surrounding Novak Djokovic's 'Fake' Australian Open Injury Controversy
Published 01/23/2023, 8:22 AM EST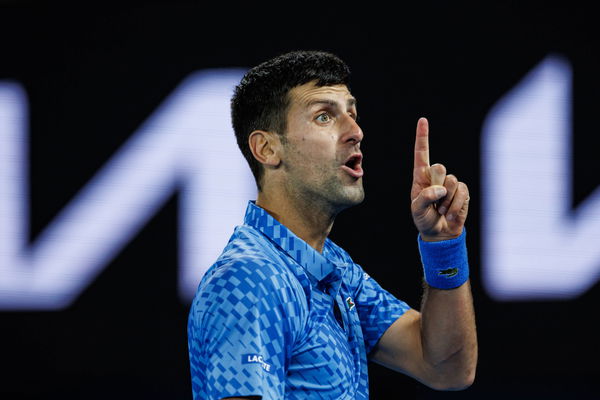 Alex de Minaur suffered a brutal loss against Novak Djokovic in the fourth round of the Australian Open. Novak won the pass to the quarter-finals and shocked the tennis world. Recently, he has been talking about a serious hamstring injury that appears to get worse with every game. However, his brilliant performance on the court has raised doubts about the credibility of the injury. In his post-match interview, De Minaur was asked about his stance on this debacle.
The Australian player did not give a direct reply but sure did hint at the allegations that claim Djokovic is faking the injury. According to Alex, Djokovic's hamstring looked "good". He also made sarcastic comments during his reply to which the tennis community has reacted on Twitter. The negative reactions to this comment from Djokovic's fans and the support for this comment from the other part of the tennis community have made this issue more confusing than ever.
ADVERTISEMENT
Article continues below this ad
Alex De Minaur fans will not let Novak Djokovic live it down
In a tweet by 'Olly_Tennis_', fans have not been shy at all to express their candid opinions about Djokovic's injury.
Read more: 'The F*King GOAT'- 'Bada*' Novak Djokovic's Emotional 'Lynching' Remark Towards Reputed Media Giant Lapped Up by Tennis Community
While some have called Alex a sore loser, the majority of the comments side with him, accusing Nole of faking the hamstring injury since Adelaide.
De Minaur on Novak's hamstring:

"I think everyone's kind of seeing what's been happening over the couple of weeks. It's the only thing everyone's been talking about. Either I'm not a good enough tennis player to expose that, or it looked good to me"

🇦🇺

— Olly 🎾🇬🇧 (@Olly_Tennis_) January 23, 2023
Some tennis fans have questioned the credibility of the people who thought that Novak's injury was indeed real. In their opinion, these people must be new to tennis.
Did people really think that was a real injury??

— enfant terrible. (@nemisixx) January 23, 2023
Fans have put their reactions as bluntly as possible about Novak's injury. Some have also resorted to derogatory language against World No 5.
Yup! Hamstring my ass!

— 🇺🇦 🏳️‍🌈Tennis Mobes #Labour 🌹🇬🇧 (@tennismobes) January 23, 2023
Fans have expressed their comments through sarcasm too. A fan pointed out that if Nole's injury is really as bad as he claims it, why haven't the talks of his retirement come along already?
I'm surprised no one asked him if he was retiring from the match for the 'injury'

— aRNi (@Arni_Abd) January 23, 2023
Another tennis enthusiast is sure that if a newbie watched Nole's performance today, they would have said that he is indeed perfectly fine judging by his brilliant performance.
Anyone who hasn't watched tennis recently and then watched tonight, could tell Nole's injury is fake. I tried to give him benefit of the doubt. But he doesn't deserve. https://t.co/0vg0jQ8Ccc

— Tahseen Kamal, Ph.D. (ANU), FHEA (@tkamal16) January 23, 2023
On the other hand, Djokovic fans have shown their loyalty and belief in their idol and defended him calling Alex the sore loser.
ADVERTISEMENT
Article continues below this ad
Whatever the actualities may be, the tennis world sure has found a raging controversy to hype up the Australian Open 2023 more than ever!
Boris Becker on Djokovic's injury
Recently, Djokovic's former coach Boris Becker spoke to Eurosport about the Serb's injury. In Becker's opinion, there is nothing fake about it. Having coached Djokovic for three years, he claims that Novak would never lie about something.
ADVERTISEMENT
Article continues below this ad
He even went so far as to state how Novak's performance is now based on priority shots rather than accumulating both small and big points. Due to the injury, as Becker claims, Novak is giving his all for the scoring shots and taking it easy on the minor ones.
WATCH THIS STORY – Hilarious Meaning of Roger Federer, Rafael Nadal, Novak Djokovic, and Serena Williams on Urban Dictionary!