Heavy Wind Gusts Shred off the Roof of Former ATP Finals Arena in London
Published 02/18/2022, 12:06 PM EST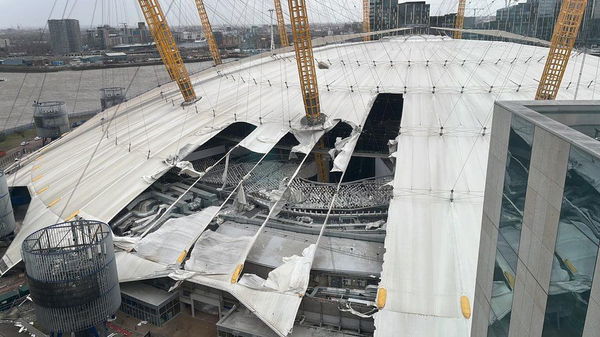 The O2 Arena in London served as the venue for the biggest tennis tournament after the Grand Slams, the ATP Finals. Starting from 2009, the venue witnessed 12 editions of the grand stage of tennis. Each year, the top 8 players from the men's circuit competed on the indoor hard court of the arena, to win the 1500 point season finale tournament. Last year, the tournament was shifted to Turin, Italy. 
ADVERTISEMENT
Article continues below this ad
Even though the venue remains an iconic stage, it suffered terrible damage recently when "Storm Eunice" hit London. With winds gusting over 90mph, the storm has forced London to come to a standstill. Even though the authorities are taking utmost care of the situation, the roof of the O2 Arena has been shredded by Storm Eunice.  
ADVERTISEMENT
Article continues below this ad
"Storm Eunice" destroys the roof of the O2 Arena
The powerful storm, wreaking havoc in London, has not just made the people feel helpless but has also started causing destruction. A number of videos surfacing on social media show the roof of the stadium being shredded off. 
In the videos, part of the protective layer can be seen fluttering into the wind. An O2 spokesperson commented on the destruction, "Due to today's adverse weather conditions, we can confirm that there has been some damage caused to the tent fabric in our roof at the O2."
Another video posted by a Twitter user shows a closer view of the roof. As per the user, the shredding initially started from just one small panel. However, the powerful winds soon took a violent turn as they went on to tear off a number of more panels. 
ATP Finals at the 02 Arena
ADVERTISEMENT
Article continues below this ad
The ATP Finals has been a prestigious tournament ever since its incorporation in 1970. London first hosted the year-end tournament in the O2 Arena in 2009. Hosting the event for 12 years, the 20,000 capacity Arena has witnessed some of the biggest names of the sport taking on each other. Here is a list of champions who won the crown in the O2 Arena.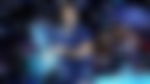 Roger Federer, with 6, holds the record for most ATP Finals titles. He is followed by Novak Djokovic, Ivan Lendl, and Pete Sampras with 5 titles each. However, between 2009 to 2020, Novak Djokovic has won the most titles.
ADVERTISEMENT
Article continues below this ad
The Serbian won 4 ATP Finals titles in the O2 Arena (2012, 2013, 2014, 2015). He is followed by Roger Federer who has won 2 titles in the Arena (2010, 2011). Britain's own Andy Murray won a title there too, beating Novak Djokovic in 2016.
Watch this story- From Locker Room Fight to Deportation: Biggest Australian Open Controversies