How Many French Open Titles Has Rafael Nadal Won?
Published 05/26/2021, 3:21 AM EDT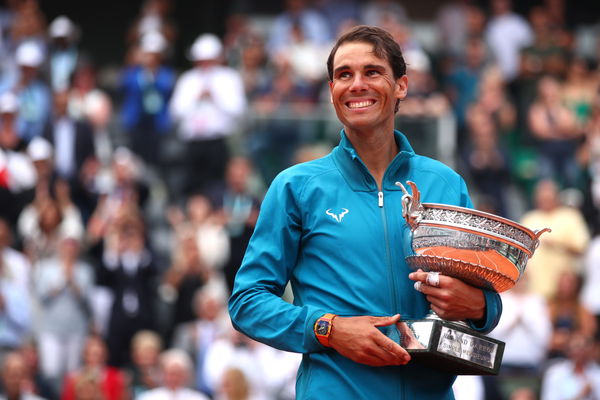 ---
---
Tennis legend Rafael Nadal has had immaculate success on clay throughout his career. Rightfully, he is renowned as the 'King of Clay' given his utter dominance on red dirt. But what makes this a story beyond belief is his unrivaled achievements at the French Open.
ADVERTISEMENT
Article continues below this ad
In 2020, the Spaniard defended his Roland-Garros trophy for a fourth straight year, extending his record to 13 times. Notably, no other player in tennis history has won this many times in a single Grand Slam tournament.
Read More: Why Rafael Nadal Hits His Racquet on His Shoes Before Serving on Clay?
ADVERTISEMENT
Article continues below this ad
Incredible achievements of Rafael Nadal at Roland-Garros
Rafael Nadal celebrated his 19th birthday during his first Roland-Garros tournament in 2005. On the same very day, he defeated then World No. 1 Roger Federer to reach the final and eventually win his maiden Grand Slam title two days later.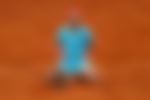 Since then, the Spaniard has only lost twice at Roland-Garros in 16 years. Additionally, he recorded his 100th French Open win, taking out Serbian Novak Djokovic in the 2020 final. Thus, to this day, Rafa has a 100-2 record on his beloved Parisian clay.
What is even more staggering is that only 2 of his 102 matches have gone the distance. This means that Rafa finished the rest of the matches in less than five sets.
Moreover, the El Matador has lost a set in a mere 21 matches. Besides this, Rafa has completed the French Open without losing a set on four occasions – 2008, 2010, 2017, and 2020. His set record stands at 298-27.
Also, Nadal has a 98% win percentage at Roland-Garros, Federer has 89% in Wimbledon, and Djokovic has 91% at the Australian Open. Conclusively, the Spaniard remains the most favorite player at Roland-Garros 2021.
Read More: UNFORGETTABLE: French Open 2021 Unveils the Iconic Heritage of Roland Garros
Who can challenge Nadal at French Open 2021?
The two men who did the impossible task of defeating Nadal at Roland-Garros are Robin Soderling (2009) and Novak Djokovic (2016). The two men who stretched the Spaniard to five sets in Paris are John Isner and the Serbian ace.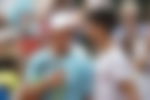 Therefore, Djokovic is prominently the biggest threat to Rafa's 14th French Open title. Other than him, the Austrian ace Dominic Thiem, who lost two finals to the Spaniard, will aim to be a third-time lucky winner.
ADVERTISEMENT
Article continues below this ad
But above all, to dethrone Nadal at Roland-Garros is one of the rarest spectacles in tennis. Even though this might change in the future, Nadal will always be the brightest name in the history books of Roland-Garros.
ADVERTISEMENT
Article continues below this ad
Also Read: Who Is the Favourite Amongst the Next-Gen To Win the French Open 2021?