'I Always Felt a Physical Downturn' – Rafael Nadal Talks About Experiencing Fatigue Post Australian Open Win
Published 02/23/2022, 11:42 AM EST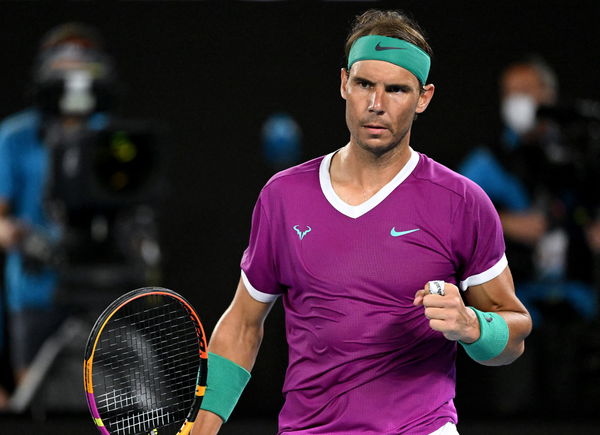 21-time Grand Slam champion Rafael Nadal is currently having a dream start to a year. The Spaniard is still unbeaten in 2022, as he won his first-round match at Acapulco. Historically, Rafa hardly experienced this kind of success at the start of a year. At the age of 35, this achievement from Rafa is truly remarkable.
In a recent interview, the Spaniard made an honest admission about winning the Australian Open. He also talked about his surprising physical condition after the Grand Slam.
ADVERTISEMENT
Article continues below this ad
Rafael Nadal made an honest admission about winning the 21st Grand Slam title
One of the greatest tennis players of all time, Rafael Nadal, is on top of the charts of Grand Slam titles, in terms of male tennis players. After winning the Australian Open in January, Rafa is back again in Acapulco showing tremendous form. At the press conference, the former World no.1 admitted about his age and winning the 21st Grand Slam title and many other things.
"From 20 to 21 there is not much difference. Life goes on exactly the same. The only thing that has changed is that I can play tennis, which a few months ago I couldn't. I am very happy what happened in Australia, it was very unexpected," Rafa stated (Google Translate).
Watch This Story: Brotherhood moments of Roger Federer and Rafael Nadal which prove their love for each other
"In my life, nothing has changed. No title is going to change what is important in my life, which are other things. Now that I am 35 years old, I have many experiences behind me, of successes and bad moments, and these sensations already help me to live in a calmer and different way," Rafa further stated.
"En mi vida, nada ha cambiado. Ningún título va a cambiar lo que es importante en mi vida, que son otras cosas. Ya con 35 años tengo muchas experiencias a mis espaldas, de aciertos y malos momentos y estas sensaciones ya me ayudan a vivir de una manera más tranquila y diferente."

— LuisAlfredoAlvarez🇻🇪🇺🇸 (@LuisAlvarez_1) February 21, 2022
Rafa is taking measured steps
Currently, Rafa is playing in Acapulco, which is his first tournament after the Australian Open. When asked about playing in the Mexican Open, he said, "I had to analyze how my body would respond, because historically, after Australia I always felt a physical downturn. This year was similar. I didn't notice the physical drop right away, but it came a little later."
"In terms of pain, my body was responding relatively well after what happened and that led me to make the decision to come. My start to the year has been infinitely better than I could have imagined," Rafa said about the current status of his physical condition. 
ADVERTISEMENT
Article continues below this ad
"A nivel de dolor mi cuerpo estaba respondiendo relativamente bien, después de lo sucedido y eso me llevó a tomar la decisión de venir. Mi comienzo de año ha sido infinitamente mejor de lo que podía imaginar."

— LuisAlfredoAlvarez🇻🇪🇺🇸 (@LuisAlvarez_1) February 21, 2022
Notably, Rafa won his first match against Denis Kudla by 6-3,6-2 in the first round at the Mexican Open. He will face another American in the next round, Stefan Kozlov. Undoubtedly, this is a great opportunity for Nadal to win his fourth Mexican Open title.
ADVERTISEMENT
Article continues below this ad
Can Rafa continue his winning streak in 2022? Tell us your thoughts in the comments.