"I Don't Know Her"- Novak Djokovic Reacts to Standing Ovation for Vaccine Developer on Wimbledon Championship 2021
Published 06/29/2021, 1:38 PM EDT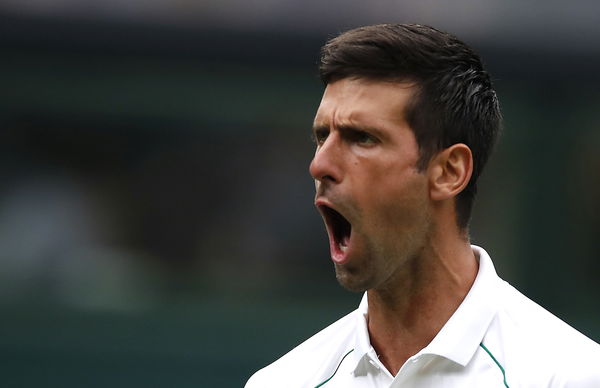 ---
---
World No. 1 Novak Djokovic began his Wimbledon title defence in style, beating Britain's Jack Draper in the first round. Despite losing the first set, the Serbian made a strong comeback, winning three sets in a row. However, a little before Djokovic put on a show on the Centre Court at Wimbledon 2021, someone else was a recipient of the crowds' iconic standing ovation.
ADVERTISEMENT
Article continues below this ad
Unaware of the historic moment that took place, the Serbian said, "I heard the standing ovation, but I didn't know who it was for."
ADVERTISEMENT
Article continues below this ad
Present in the audience were Professor Sarah Gilbert and the NHS team who were welcomed with a standing ovation for their notable contribution in developing the Covid-19 vaccine, AstraZeneca. In a moment best described as emotional, the crowd showed their respect for them, thanking them for their service in these unprecedented times.
In this post-match press conference, Djokovic said, "I don't know who you are referring to. I heard the standing ovation as I was coming onto the court but I didn't know who it was for, to be honest."
Novak Djokovic says it was 'one of the best' performances
Reflecting upon his commendable performance, Djokovic added, "Well…umm.. I think I probably had one of the best serving performances that I can recall, on any surface."
Novak smashed 25 aces across four sets. Speaking of his opponent, Djokovic described the debutant to be a 'fighter'.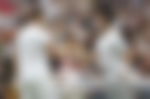 "He was playing well, he was fighting. Obviously, for him (it) was a unique situation playing for the first time on the Wimbledon centre court. He's done well", said Djokovic.
The Englishman had a solid start to the game, winning the first set 6-4. However, he couldn't keep up to the Serbian's pace and ended losing the game to 6-1, 6-2, 6-2.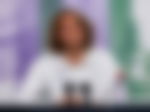 Over-cast issues
The weather had its adverse effects on the game. Due to the roof, the moisture made the court slippery and difficult to play on. Both players struggled to find shape, resulting in multiple points loss.
ADVERTISEMENT
Article continues below this ad
"I was kind of slipping a few times on those breakpoints, still finding my footing. I would say on the grass that was quite slippery and quite moist," said Djokovic.
After a rather sturdy start, the French Open champion looked solid and inform, breaking his own service record and getting a firmer grip on the game.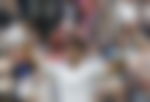 Up next, the World No. 1 faces South African, Kevin Anderson, in the round of 64. In a pursuit to regain his title, it will be interesting to see if he can claim the bragging rights and end the 'G.O.A.T' debate, once and for all.
ADVERTISEMENT
Article continues below this ad
Trending Stories